We Cater to Families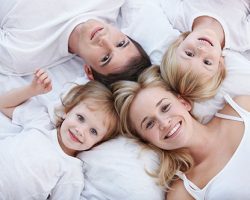 If you're like most families these days, you are busy with school, work, sports, lessons, and other activities. You do enough shuttling kids around town, so why make it harder on yourself with multiple dental offices?
At Dores Dental, we are skilled and totally comfortable with patients of all ages. We are not a pediatric practice, but we provide every service your kids may need and even make visits fun for them. Plus we have the cosmetic and restorative procedures that adults, including seniors, may require.
We are your one-stop dental office in Longmeadow, MA. To schedule an appointment at Dores Dental, call 413-241-3995.
A Family-Friendly Dental Practice
We know how difficult it can be to find time to see the dentist with all your family's other activities and obligations. So we do our best to make it easy for you with extended hours. Dores Dental is open after traditional work hours at least three nights per week.
Visiting the dentist can be a scary experience for adults and children. At Dores Dental, we have a staff of incredibly knowledgeable and kind professionals who know how to make patients feel comfortable and at ease. Kids who come to our practice learn to love the dentist, which will keep them coming back and establish the foundation for a lifetime of good oral health.
We love technology that improves our patients' experience. Advances in dental technology have made procedures faster, less uncomfortable, and more precise. If you've ever had an injection to numb your mouth for a filling or other procedure, you know that the anesthesia needle itself can be highly unpleasant. With our DentalVibe injection system, you won't feel any discomfort while receiving numbing agent, and the medicine's effects will kick in more quickly. The Solea CO2 dental laser enables us to perform a variety of dental procedures painlessly and without anesthesia. It is noiseless (no whining of that drill) and cauterizes tissue so no sutures are required. We also use digital X-rays and an intraoral camera for more detailed imaging with less radiation.
The Procedures Your Family Needs
Cleanings and Exams
Every member of the family should visit Dores Dental twice a year for a checkup.
We will give your teeth a thorough cleaning, removing plaque, tartar, and bacteria that your toothbrush at home can't reach. We will also professionally floss your pearly whites, and polish them so they look and feel sparkling clean.

Dr. Dores or Dr. Kim will inspect your teeth for signs of tooth decay,

gum disease

, and other problems. Catching issues early generally means easier, less invasive treatment. We will also screen you for indicators of oral cancer, and check your neck, scalp, salivary glands, and the floor of your mouth.

We may take digital X-rays and look inside your mouth with our intraoral camera. These high-tech imaging technique enable us to see hidden problems, such as abscesses, cysts, impacted teeth, and between-teeth cavities.
Sealants
Sealants have been shown to significantly reduce the likelihood of tooth decay in children. The procedure is simple, painless, and remains effective for years. A sealant is a plastic coating that is applied to the chewing surfaces of the teeth (typically the back molars). Damaging acids created by bacteria are unable to penetrate the sealant and damage your enamel.  
Fluoride Treatments
You've probably heard of fluoride. It's a mineral that's essential to keeping tooth enamel strong and able to resist bacterial acid attacks. Fluoride and other minerals are continuously shed from your teeth in a process of demineralization, and they must be replenished. At Dores Dental, we offer special treatments so you can feel confident you and your children are receiving the fluoride you need.
Custom Mouthguards
Our athletic mouthguards protect your mouth during sports and other physical activities. Since they are custom fitted, they are more comfortable than the store-bought variety.
Invisalign
For adults and teenagers who want to straighten their teeth, Invisalign is discreet and effective. The system uses a series of clear plastic aligners that are practically invisible while being worn and that are removable for easy eating and cleaning. You change them out every couple of weeks and over time, they shift your teeth and straighten your smile beautifully.
Teething and Thumb Sucking
For parents of very young patients, we can provide advice on reducing the pain of teething and suggestions for ending thumb sucking.
Book your family's checkups at Dores Dental today. You may reach us online or call our Longmeadow, MA office at 413-241-3995.