Your Best Bet For Athletic Mouthguards [VIDEO]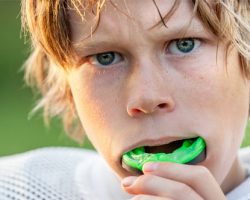 Here is another plug for the importance of wearing athletic mouthguards. It seems like, this time of year especially, we are always explaining to our student athletes and their concerned parents how custom mouthguards can work to protect their teeth and gums from unanticipated damage. 
With the one-of-a-kind mouthguards we offer at Dores Dental, they will be based on your specific activity, which could cover your upper teeth or upper and lower, depending on the protection you need. 
As an added bonus, our custom sports guards can help you breathe better and speak better, and they offer more comfort, durability, strength, and protection than the boil and bite variety mouthguards you'll find at the sporting goods store. So, be sure to watch this video clip from our friends at the American Dental Association, for more information, then call us at 413-241-3995 or fill out our online form to request your next easy appointment with us.