Why CEREC Dental Crowns Are Better than Traditional Crowns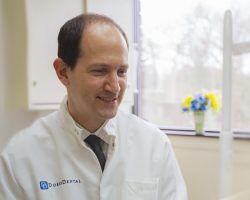 Dental crowns are commonly used for various reasons. They effectively protect weak teeth, restore broken teeth, and prevent further damage in teeth that have chipped or cracked. Dental crowns also support teeth that have large fillings. But the team at our East Longmeadow, MA dentist's office wants you to know that not all dental crowns should be treated the same.
At Dores Dental we are proud to offer the most advanced dental services, treatments, and oral health enhancements. For patients who don't want to make several trips to the dentist for a single dental treatment, but are in need of a dental crown, CEREC crowns are the perfect solution. 
There are several factors that make CEREC dental crowns better than traditional crowns. Arguably the biggest factor that sets CEREC crowns apart is convenience. Why make several trips to the dentist when you can take care of the problem all on the same day? With CEREC dental crowns, we can do just that. Keep reading and then give us a call at 413-241-3995 to request your consultation with Dr. Dores.
Benefits of CEREC Dental Crowns
CEREC stands for Chairside Economical Restoration of Esthetic Ceramics. Typically, CEREC crowns are made from a solid block of ceramic or resin materials. 
There are many advantages to choosing CEREC dental crowns over traditional crowns. Some of the benefits of choosing CEREC crowns include:
The entire process takes two hours

We can take digital impressions of your mouth in minutes instead of relying on traditional, messy impressions

The ceramic crown is made with a machine that guarantees accuracy and precision

CEREC crowns look, feel, and function like a real tooth

CEREC crowns last an average of 10-15 years but can last much longer with proper care

No temporary crowns are required

Patient experiences less sensitivity after the procedure
Traditional crowns are often made of metal, which is an unpopular choice for front teeth since it doesn't look natural. Porcelain crowns can chip and break. But ceramic or resin crowns look much more natural and are far more economically-friendly than other available options for dental crowns. 
CEREC Dental Crowns: What to Expect
Once you are approved for same-day dental crowns with the help of CEREC technology, one of our experienced and friendly restorative dentistry team members will create a 3D digital impression of your mouth. This allows us to measure the area where the crown will be placed, to ensure an accurate fit. 
We then use a specialized unit to create your customized crown that is painted and glazed to match the rest of your natural teeth. Once the crown is ready, it is bonded to your teeth in just a matter of minutes.
To find out if CEREC dental crowns are right for you, call Dores Dental at 413-241-3995 to schedule a consultation in East Longmeadow. During your appointment, we will determine your need for a dental crown and assess whether our same-day dental crown treatment with CEREC technology is right for you. 
Our team at Dores Dental will answer any questions you may have. So, call us today!