Today's Modern Dentures Are A Marvel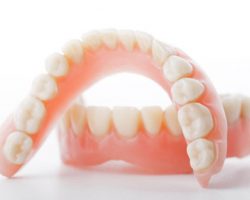 Dores Dental in Longmeadow, MA offers a number of teeth replacement options. For many people who are missing one, several, or even all of their teeth, today's thoroughly modern dentures are a great option.
Today's dentures are made out of advanced materials that look and feel natural and comfortable. You've probably met someone and not even known they were wearing dentures! Dr. Dores creates custom dentures that are perfectly designed just for you.
Partial Dentures
Partial dentures replace one or a few missing teeth. Partial dentures can be removable or fixed. A fixed partial denture is also known as a dental bridge.
Partial removable dentures incorporate artificial teeth, made of resin or porcelain, and an acrylic base that is a close match to your natural gum color. The teeth are firmly embedded in the base and the partial denture snaps into place. Alternatively, the partial can be held in place with metal attachments. Denture adhesives aren't needed with partial removable dentures.
Partial fixed dentures, or dental bridges, are a series of dental crowns that are fused together. Typically, the end crowns are hollow, just like the crown that Dr. Dores would use to protect a damaged tooth. The hollow crowns are cemented over the teeth on either side of the gap left by one or more missing teeth. The middle crown or crowns are solid and "fill the gap," acting as replacement teeth and returning your ability to eat comfortably.
However, dental bridges can also be supported by dental implants. This solution is stronger and avoids some of the problems that can develop with crown-supported partial dentures.
Complete dentures are what most people typically think of as dentures. A complete removable denture is an entire arch of replacement teeth that sits snugly over your gums and is held in place by suction. A dental adhesive is often used for an even more secure fit.
As with bridges, complete dentures can also be supported by dental implants. This is the strongest and most lifelike option for an entire arch of missing teeth. The dental implant, an extremely strong metal screw, is implanted into your jawbone. A number of implants are used to anchor a full arch of teeth. The result is an immovable support for you dentures that allow them to fit and function just like your natural teeth.
If you're looking for a permanent solution to the question of replacing missing teeth, Dr. Dores implant-supported dentures. With care, the implants should last the rest of your life which make this a very attractive option for many people.
Don't Live With Missing Teeth Any Longer
There are many attractive options to restore your smile and your ability to eat. You don't have to be embarrassed to smile or unable to enjoy the foods you love.
Call our Longmeadow, MA office 413-241-3995 today to schedule a consultation with Dr. Dores. You can also use our convenient online form.
Dr. Dores and all of us at Dores Dental look forward to helping you enjoy the confidence and enjoyment that come with today's thoroughly modern dentures.