Three Reasons Invisalign Might Be For You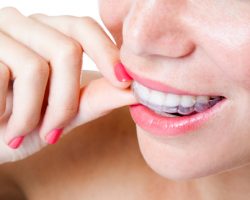 Orthodontic care has come a long way from braces with headgear. One of the biggest advances was the development of Invisalign clear aligners. For adults and some teens, this can be a great way to straighten their teeth. Here are three reasons you may want to consider this service for yourself or someone you love.
Invisalign works
If it didn't, we wouldn't recommend it. These clear aligners can straighten teeth that are crooked. They also can close gaps between teeth and correct bite issues such as overbites and underbites. The time it takes to transform your smile will depend on your specific situation, but we won't recommend it unless we are confident it can help you.
Invisalign is convenient
Braces work, but they have some drawbacks. You may have to give up eating certain foods during your treatment. Some people find the brackets and wires irritate the soft tissues of their mouths. Invisalign aligners can be removed during meals, so you can eat what you want. They are also made of smooth plastic, which is much less likely to irritate your mouth.
Invisalign is discreet
It's hard to hide the fact that you are wearing braces. This is why many adults are uncomfortable wearing braces in their personal and professional lives. Invisalign aligners are clear and custom-made. They fit snugly over your teeth, and most people won't realize you are wearing them.
Let us help you create the smile of your dreams. Call Dores Dental at 413-241-3995 to find out more or fill out our online form to request your future appointment.