Three Easy Smile Transformations In Longmeadow, MA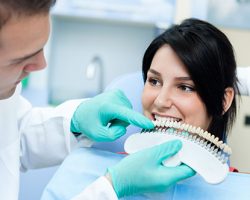 Three Easy Smile Transformations In Longmeadow, MA
Welcome back to the Dores Dental blog! We hope that this platform is a source of good dentistry-related information for you and your family! Our mission is to keep your mouth healthy and your smile looking great.
Now that we've made it to February, it won't be long until spring is here! That is encouraging, right? The only question is, will your smile be camera-ready by then? It will be much harder to hide your bothersome teeth once the weather breaks.
There's no need to despair if your teeth are…
…stained!
…chipped!
…cracked!
…yellow!
…misshapen!
…gapped!
…generally embarrassing!
…because no matter how bad the damage has become, we can help improve your look with one of our quick and easy cosmetic dentistry treatments in Longmeadow, MA!
Professional Teeth Whitening
In spite of diligent hygiene habits, you can still end up with discolored teeth. Simply growing older will darken your teeth, and your daily habits (coffee, soda, wine, chocolate, etc) will leave their mark on you over time. You just can't win!
Lucky for you, at Dores Dental, we can quickly brighten your teeth with the professional Zoom! Whitening system. For this treatment, professional-strength peroxide gel will be applied to your teeth. That gel is activated by UV light to remove deep-seated stains and spots. It is a marvel of modern dentistry!
Just so you know: actual results do vary based on the current color and condition of your teeth. Still, Zoom effectively whitens teeth up to 8 shades after only one session!
When the process is complete, you'll have plenty to smile about!
Dental Veneers
We are big on this one because our veneers are a simple and effective cosmetic cover-up.
When are they used? In lots of situations! Veneers can help you if you have teeth that are cracked, chipped, misshapen, uneven, or discolored, which makes them something of a catch-all solution.
For this non-invasive treatment, we will remove a small amount of enamel from your teeth and then cement the porcelain veneers on top of them.
It's a quick and easy way to get a radiant new smile! Come see for yourself!
Dental Bonding
This isn't about bonding with your dentist by spending quality time together in our office. At Dores Dental, cosmetic bonding is an affordable solution that is used to correct small blemishes in your teeth like discoloration, chips, and gaps between teeth.
What does bonding involve?
During this procedure, a durable, tooth-colored material is bonded directly to your tooth to restore your tooth to its pristine state.
Sounds easy enough, right?
The good news is that you will be thrilled with the repairs dental bonding can make.
Learn More, Get Started!
We hope you will be inspired by today's blog post to take the next step! These smile transformation solutions are just a few examples of what we can do to improve your look. In the event that you are missing teeth, or are in need of orthodontic work, we can help you address those issues as well. Regardless, we'll make it a pleasant and positive experience!
Just contact us today to schedule your cosmetic dentistry consultation in our Longmeadow, MA office.