Take Care of Dental Care Before Back to School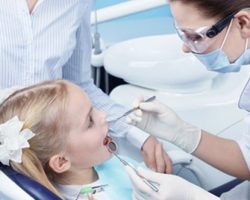 There's a reason you don't hear folks talk about the "lazy days of fall." Family calendars tend to fill as kids return to school and autumn approaches. That's why it's a good idea to take care of your crew's dental care before back to school.
The Dores Dental team can help you with:
Scheduling Exams Before School Starts – There is usually a rush on dental exams in the days right before school starts. Give yourself more options by booking your family's exams now. We're open as late as 7 p.m., to make it more convenient for you to see us.
Extracting Troublesome Teeth – Many youngsters get their wisdom teeth in their late teens or early 20s. Not all wisdom teeth need to be extracted, but they may need to be if they put your child at risk of dental problems. It's best to schedule this procedure before they go back to class, since they'll want to take it easy for a few days.
Straightening Smiles – It's far easier to adjust to Invisalign than to braces. Still, your child will likely feel more comfortable interacting with others if they've first had a chance to get used to how the aligners feel in their mouth.
Enhancing Confidence With Smile Improvement – A new school year often signals new opportunities, such as internships and tryouts for teams. A confident smile will help, no matter which activities your child decides to pursue. Boost their self image with teeth whitening or other cosmetic services.
Protecting Athletes' Teeth – If you have kids who play sports, you'll want them to wear mouthguards to safeguard against dental damage. Our custom-made mouthguards provide a fit better than you can get from store-bought mouthguards. A comfortable fit ensures your children won't be tempted to leave them on the sidelines.
Taking care of dental care before back to school will free up time for your family's other activities. Call us today at 413-241-3995 to schedule appointments in East Longmeadow, MA.