Take Advantage Of The Latest Technology at Dores Dental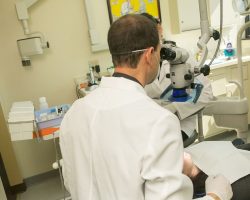 Dental care has come a long, long way thanks to technology. Tech advances mean that there are new dental procedures available and existing ones are improved.
Dr. James Dores, of Dores Dental in Longmeadow, MA, has stayed on top of some of the best dental technologies out there in order to make your visit as stress-free and painless as possible.
Here's a snapshot of just some of the services he offers:
Solea Laser
Some Americans are so scared of going to the dentist that they'll go to just about any length to avoid it. Some people will even suffer with pain for months before finally making an appointment.
Dr. Dores doesn't want you to do that. That's why one of the new technologies that he's embraced is the Solea Laser. It will change your dental experience forever.
How would you like to walk into a dental office, relax in the chair, and have a pain-free procedure without the need for drugs? It's possible with Solea Laser.
With laser dentistry, you experience no discomfort because there is no need for a needle to numb your tooth, no uncomfortable pressure, and no lingering pain afterward. There's also no drilling, something that a lot of people just hate. The procedure is fast, precise, and is virtually noiseless.
The laser cauterizes your soft tissues as we work.There won't be a long healing period, and your risk of infection following your procedure will be minimal. You can simply have your work done and then go on with your life!
Same Day Dental Crowns
Getting a traditional dental crown is not necessarily a painful experience, but it can take some time to complete. That's because with traditional crowns, there is a waiting period of a few days to a couple of weeks to get the permanent crown back from the lab.
The traditional process includes getting a mold or impression made of your teeth. Some people don't like the material used in getting the impression. It can cause a gag reflex.
Once the impression is made, you have to wait until the crown is finished at the lab. In the meantime, you have to wear a temporary crown that can fall out, causing you to have to go back to the dentist to have it cemented on again. You never know when that could happen.
Dr. Dores uses the CEREC dental crown technology to cut down on the inconvenience of the crown procedure.
Dr. Dores will:
Clean your mouth in the area where the crown will go, removing any decay.
Reshape the tooth if necessary.
Take 3D pictures with a tiny scanner.
Forward the scanned pictures to the CEREC (Chairside Economical Restorations of Esthetic Ceramic) computer which is located in the same office. The CEREC system will "read" the specifications sent by the scanner. Then a milling machine will carve the crown out of ceramic.
Your crown will be completed in just a few minutes and be ready to be placed in your mouth. Dr. Dores will then do any adjustments that are needed.
That's it! No temporary crowns and no waiting.
Zoom! Teeth Whitening
Speaking of fast results, Zoom! Teeth Whitening can, depending on the condition of your teeth, we can get them up to eight shades after just one 15-minute session. This is much improved over old methods in which you had to wear whitening trays for hours every day.
For the procedure, Dr. Dores will use peroxide-containing gel that is stronger than that you can get in an over-the-counter application. He'll put the gel inside a tray and fit the tray over your teeth. The tray keeps the peroxide from harming the soft tissues.
Next, he'll expose your teeth to a special light that will activate the gel. A fresh coat of gel is applied during each 15-minute session. You'll be delighted with the results!
With advances in technology, many dental procedures have become less painful and more convenient. You don't have to be afraid of seeing the dentist anymore, and you can get results much faster than before.
If you want to experience some of the latest dental technology by a dentist specially trained to use it, set up an appointment with Dr. Dores by calling 413-241-3995 or using our online form to schedule a consultation.