Start Your Clear Aligners Program This Summer [BLOG]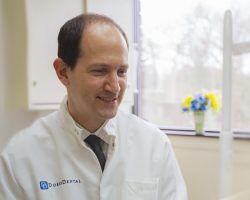 Many adults and teens from the East Longmeadow, MA area have successfully straightened out their smile situation, without having to endure any painful or embarrassing moments along the way, thanks to Invisalign® clear plastic aligners administered by Dr. James Dores of Dores Dental. So, if you have been putting up with any annoying orthodontic issues, and you want to improve your health and appearance once and for all, this summer is the perfect time for you to give us a call at 413-241-3995 to request your consultation appointment and begin your own custom-built treatment.
What Makes Clear Aligners So Popular?
As opposed to old-style braces that use metal brackets and wires, Invisalign's smooth, plastic aligners won't irritate or cut the inside of your mouth. As an added bonus for adults, these clear aligners are nearly invisible once you have them in place. And since you can remove them to eat, drink, and to care for your teeth, they're both convenient and discreet. 
Plus, with Invisalign, there are none of the usual food restrictions that go along with traditional braces. You get to eat all the foods you love without worrying about trapping food in your gear or buying special tools. You continue to brush and floss just as you normally would.
How Does Invisalign Work?
Invisalign is a program that utilizes a series of clear aligners that are customized specifically for your orthodontic needs. The aligners fit nice and snugly that you don't have to worry about them falling off, even while you sleep! For best results, you'll wear an aligner set for 20 or more hours a day.
Then, about every two weeks you will simply switch to the next aligner in your personalized series to continue the process of moving your teeth. You'll meet with Dr. Dores periodically to check your progress. But there won't be any painful in-office adjustments like braces often necessitate.
Are Clear Aligners Your Best Bet?
We won't know for sure if clear aligners are right for you until we see you in our office. That said, Invisalign is known to help patients who are dealing with a wide variety of orthodontic issues including:
Overbite

Underbite

Crossbite

Open Bite

Gapped Teeth

Crooked Teeth

Crowded Teeth
If Invisalign is right for your needs, Dr. Dores will use the latest dental technology to assist with fitting you for your custom-made clear aligners. He can also estimate how long your treatment will take based on your current situation. Invisalign often produces results much faster than braces, sometimes in a matter of months. So, what are you waiting for?
Call I Start Now?
We hope you have been inspired to boost your confidence in both your professional and personal lives, while improving your health and appearance in the process. This summer you can begin working toward the sort of smile that you'll be proud to share from here on out. So, get started by arranging a clear aligners consultation. Call the Dores Dental team at 413-241-3995 or fill out our online form to request your appointment with us.