Start on Your New Smile With Invisalign Aligners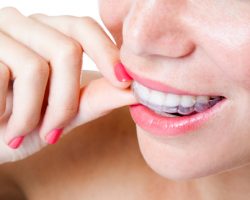 Ask us about Invisalign aligners soon if you have a teen who is ready for orthodontic care. For many teenagers, this is a great alternative to braces.
Convenient Care
Invisalign patients receive custom aligners. These can be removed for a few hours each day. That means you can eat what you want. You also can brush and floss your teeth as you do now.
Comfortable Care
Braces are effective, but they also can be painful after adjustments. Broken wires also can poke into the soft tissues of your mouth. This is not a concern when you are wearing a smooth aligner.
Clear Care
With transparent aligners, you can feel go about your daily life without worrying about braces being a distraction.
Your first step is scheduling a consultation. Call the Dores Dental team at 413-241-3995 to find out more or fill out our online form to request your appointment.