Smile — It's Back to School!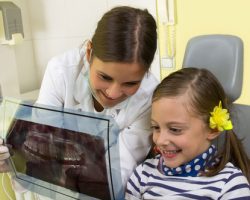 It's August. And as summer winds down, you are likely starting to get organized for the coming school year. Got that school supply checklist in hand? Getting ready to open your wallet for new shoes, clothing, and backpacks? (Ugh.) Maybe you've even scheduled a physical or well visit with your child's pediatrician. And how about that dental checkup?
"Wait, what?," perhaps you're wondering. "I'm supposed to take my kid to the dentist before school starts?" Yes, especially if your child has not seen the dentist in the past six months, this is the perfect time to schedule that appointment. You won't have to worry about missing valuable educational time for the visit, plus you can be sure he or she is starting the school year in good oral health.
If you live in or around Longmeadow, MA, call Dores Dental at (413) 241-3995 to schedule a checkup for your child(ren). Dr. James Dores is known for his gentle and reassuring chair-side manner, and the entire staff knows how to treat kids right.
The American Academy of Pediatrics says tooth decay is the most common chronic childhood disease in the United States. And it starts early: 40% of kindergarteners begin the school year with some form of decay. Regular dental visits are essential to keeping teeth healthy through the school year and beyond.
What to Discuss
In many ways, a back-to-school checkup will be like any other dental visit. Your child will get a cleaning and digital X-rays if due, and Dr. Dores will examine his or her teeth and gums for signs of decay and other problems. Depending on your child, you may want to bring up a couple of other issues:
Mouthguards

: Any child who plays sports regularly (especially contact sports) should have a mouthguard to protect the teeth. Mouthguards, or sports guards, are soft appliances that prevent the teeth from knocking together. Dr. Dores will craft a guard that's far superior to the ill-fitting and awkward varieties sold in stores. He will custom make it to the patient's specific measurements and sport.

Sealants

: Especially if your child's teeth are prone to cavities, you should seriously consider having his or teeth protected by sealants. A sealant is a coating that keeps decay-causing bacteria from harming the teeth. The process is fast, painless, and highly effective. Sealants have been shown to reduce the chance of decay in molars by almost 80%. The Centers for Disease Control reports that kids without sealants on their teeth have almost three times the number of cavities.
A Healthy Smile Is a Year-Round Commitment
Of course, keeping your child's teeth healthy doesn't stop at the dentist's office. It's an effort that must be continued at home and at school, too. Right now is an excellent time to take a look at your family's oral hygiene habits and determine if habits need to be established or retooled.
Brush. Floss. Repeat.

: Summer schedules tend to be a bit more relaxed and free of consistency. But once the school year starts, it's very important that good oral hygiene doesn't fall through the cracks in the daily rush to the bus. The best way to ensure this doesn't happen is to establish a morning routine right now and stick with it. By the time the first day of school arrives, it will be second nature to your kids.

Examine Those Toothbrushes

: Do it now, and throughout the year. Toothbrushes should be discarded and replaced every three to four months — or when the bristles begin to look frayed.

Pack Good Food

: It's not always easy to monitor your kids' eating habits when they spend so much time at school and activities. But you can play a huge role in what they eat when not at home by sending healthy, tooth-friendly lunches and snacks. Great choices include fresh vegetables, fruits, cheese, water, and white milk. Not-so-great choices are chewy "fruit snacks," roll-ups, and granola bars, all of which can get stuck in kids' teeth. Also beware of sugary beverages: soda, chocolate milk, juice, and even sports drinks.

Help Your Child Choose Healthy

: Kids who buy meals at the school cafeteria can also do right by their teeth — with a little help. Go over each day's lunch menu with your child. Point out the good choices and the poor choices. Eventually, he or she probably won't even need your help. You'll have set the stage for a lifetime of healthy eating!
Don't wait. Set up your child's back-to-school dental appointment with Dores Dental of Longmeadow, MA today. Call (413) 241-3995 or check out our online form.