Seven Ways to Keep Your Gums in Great Shape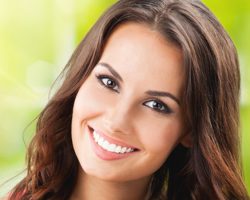 When was the last time you paid attention to your gums? If you're like many people, you are well aware of how your teeth look and place a lot of importance of keeping them clean and healthy. But while gum disease prevention tends to be overlooked in our oral hygiene efforts, it is just as vital as taking good care of our pearly whites.
February is Gum Disease Awareness Month, and it's time to give gums their due.
Without gum tissue holding them in place, teeth loosen and fall out. In fact, it's gum disease, not tooth decay, that is the number one cause of permanent tooth loss in adults. And periodontal disease is alarmingly widespread. According to the Centers for Disease Control, almost half of Americans over the age of thirty are afflicted with some form of the condition, as are a whopping seventy percent over the age of sixty-five.
Armed with awareness and good oral care habits, you can keep your gums in excellent shape for life. This includes regular cleanings and exams at Dores Dental. If you are almost due for your twice-yearly checkup at our Longmeadow, MA office, call 413-241-3995 to schedule an appointment.
Brush Up on Your Brushing Technique
You may be aware of the basics: brush twice per day for two minutes at a time. But do you put much thought into how you brush? Reach all surfaces of the teeth, and keep your toothbrush at a forty-five degree angle to the gums. Pay special attention to cleaning around the gumline, and brush your tongue to remove additional bacteria.
Always use a soft-bristled toothbrush and use gentle pressure without scrubbing. Your gums are sensitive and brushing too forcefully may injure them and even cause them to pull away from the teeth.
Floss Every Day
Flossing is a vital component to any oral hygiene routine. While many people like to floss at night to remove any lingering food debris from the day, the American Dental Association states  that it really doesn't matter what time of day you choose to floss — as long as you do it. Proper flossing technique removes stuck food and cleans sticky plaque from the enamel. It's also beneficial for your gums. You should use the dental floss to clean beneath the gumline. Be gentle — it should never hurt!
Don't Use Tobacco Products
If you are a smoker or use chewing tobacco, you are putting yourself at risk for all sorts of health problems, from cancer to lung problems to cardiovascular disease. You are also increasing your likelihood of developing numerous oral health problems, including periodontal disease. In fact, tobacco use is one of the leading risk factors for gum infection — perhaps because it lowers your resistance to infections in general. And smokers' gum disease has worse outcomes than gum disease in non-smokers, including higher rates of tooth loss.
End Bruxism
Bruxism is otherwise known as clenching or grinding your teeth, often done at night without you even realizing it. This habit can have a range of consequences. You may experience TMJ problems like jaw pain and migraines. It can wear down your tooth enamel and injure your gums.
Stress or anxiety is often at the root of bruxism. It may not be possible to eliminate the stress, but you can find ways to manage it better. Try meditation, breathing exercises, or activities that you find relaxing.
Visit Dores Dental Every Six Months
Even if your mouth feels fine, it's still important to come in for twice-yearly dental checkups. We will give your mouth a thorough cleaning, removing plaque and tartar along and even underneath the gumline. Plus Dr. Dores will carefully examine your gums for any sign of problems. Early-stage gum disease, or gingivitis, often appears without symptoms noticeable to you, so professional exams are critical. The earlier periodontal disease is caught, the easier it is to treat.
Load Up on Folic Acid
Studies have show that this essential B vitamin plays an important role in gum health and preventing gum disease. Folic acid appears to reduce inflammation — the hallmark of periodontal disease — and make gums better able to resist the harmful effects of plaque and bacteria. It may also reduce bleeding. Folic acid is especially important for pregnant women, who are prone to hormone-related gum problems, a condition called "pregnancy gingivitis."
Folic acid is found in foods including leafy green vegetables, citrus fruits, beans, and cereals.
For gum disease prevention, good habits go a long way. Schedule a cleaning and exam at Dores Dental of Longmeadow, MA by filling out our online form or by calling our office at 413-241-3995.