Root Canal Myths Dispelled [BLOG]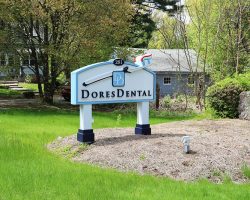 There's one thing you should know about us by now: here at Dores Dental in Longmeadow, MA, our patients' comfort is a big deal to us, even during a root canal or other misunderstood procedures. Keep reading to hear more about how pop culture got it wrong when it comes to root canals, and then give us a call at 413-241-3995 to request your consultation ASAP.
Myth: Root Canals Inflict Pain
Look, we aren't denying that back in the day dental anesthesia wasn't nearly as sophisticated or used nearly as often as it is in the modern era. But any pain associated with this procedure was fleeting even then because once the nerve of an infected tooth is removed, the pain is gone. With modern dental anesthesia, you won't have to worry about any extra pain from the procedure. The pain originally caused by your dental problems will be alleviated soon enough by our solution!
Myth: Root Canals Spread Infection
This one comes up every once in a while, but it is very much unfounded. You see, root canals clean out infection from within the tooth by removing the dental pulp and the nerves and blood vessels it contains. Additional medication may be placed in the tooth to ensure that every trace of dental infection is gone. Rather than spreading infection, a root canal prevents the spread of that infection. So, now you know the score!
Myth: Tooth Extraction Is Better For You
As oral health professionals, we know that keeping your natural tooth (protected by a dental crown after a root canal) is the best bet for your smile. Here's why: living with missing teeth can affect the thickness and strength of the underlying bone. Missing teeth can lead a person to chew more on one side, and that can cause premature wear of the tooth enamel and other problems. What's more, tooth loss can affect a person's self-confidence and health given enough time.
Fact: Root Canals Are Easy At Dores Dental
There is nothing to fear about root canals at Dores Dental. When you arrive, we'll make sure you feel comfortable and confident in the dental chair. To help with that, we will go over every detail of what is about to happen, and we also have a range of comfort options to choose from. 
Each time such a restorative dentistry procedure begins, Dr. Dores ensures that the patient's tooth and the surrounding area are sufficiently numb with our DentalVibe Injection System that makes numbing injections a painless step.
Next, Dr. Dores will need to open up the top of the tooth to expose the pulp. Using highly specialized tools, he'll extract all the dental pulp, including that which lies within the root canals, to remove any infected tissue. Like we said, once the nerve has been removed, there's nothing to send pain signals to your brain. So, there's no cause for alarm!
In the home stretch, Dr. Dores will fill the interior of the tooth with an inert material, and then further protect the tooth with a dental crown. Thanks to our ongoing investments in technology, you can get a same-day CEREC crown meaning you don't need to make a second trip to the office in order to finish the job. 
That's the short and long of it. From there, over-the-counter pain medication will probably be enough to limit any discomfort. Before long, you will feel amazing again.
Call For Your Compassionate Root Canal Procedure
If you're having severe dental pain, you owe it to yourself to save your tooth and save yourself a great deal of discomfort, wasted time, and expense. All you have to do now is call us at 413-241-3995 or fill out our online form to request your easy root canal appointment with us. You won't regret it!