How Restorative Dentistry Brings Your Smile Back to Health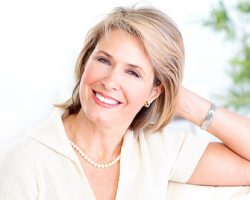 Teeth that are damaged and decayed not only look unattractive, they are hazardous to your health.
A small cavity can grow into a raging infection. This may result in tooth loss, jawbone deterioration, and malnutrition due to difficulty chewing.
Bacteria from an infection has the potential to spread throughout your body, with serious and even deadly consequences.
Restorative dentistry is designed to fix a broken or decayed smile, making it beautiful and healthy once again.
At Dores Dental, we offer a full range of restorative procedures. When you come to Dr. Dores, you can feel confident you are in experienced, skilled, and highly competent hands. He is a member of the American Dental Association, the Massachusetts Dental Society, and the Valley District Dental Society.
To schedule an appointment, call our office in Longmeadow, MA at 413-241-3995.
Fillings Seal & Stop Tooth Decay
If you have a relatively small area of decay in your tooth, we will likely choose to repair it with a dental filling. At Dores Dental, we offer fillings made of composite resin and porcelain. Both options are matched to the color of your teeth, so they are invisible. No more bright and shiny metal, like fillings of the past!
What material is used for your filling will depend on the location of the cavity, its size, and your budget.
Porcelain fillings are super strong and considered more durable than composite resin. With proper care, they can last more than fifteen years! They resist staining more effectively, but are more expensive. The process is a bit more involved than with their composite counterparts, but the results are stunningly lifelike.
We will take precise impressions of your tooth.

The impressions will be used to create your filling.

The restoration will be a precise match to your tooth color so it's invisible in your mouth.

We will meticulously remove every trace of decay and prepare your tooth to receive the filling.

We will bond the restoration into place and make any final adjustments.
Composite resin fillings are another aesthetically pleasing choice. If you choose this material to fix your cavity, the process goes something like this:
Dr. Dores will clean out the decay from your tooth and prepare the area for the filling.

He will layer the putty-like resin over the cavity, molding it so it looks natural.

The material will be matched to your natural enamel color.

The composite material will be hardened, or "cured," using a special light.

Dr. Dores will make final changes to the shape and polish the filling so it blends in perfectly with your tooth.
Root Canals Save Teeth
Root canals have acquired a reputation for being excruciatingly painful and something to dread. We're not quite sure why this is the case, but we do know that this common perception is completely wrong! Root canals are not any more uncomfortable than the process of getting a filling.
We will make sure you are completely numb before the procedure, and thanks to our DentalVibe technology, even the anesthesia is a pain-free process.
Endodontic therapy is necessary if you have an abscess or an infection of the tooth pulp. If you've been experiencing lingering, spontaneous tooth pain or sensitivity to hot or cold foods, you may have an infection and should come see us right away.
If we determine you do need a root canal, we will complete the process in one day.
We will numb your mouth using our DentalVibe painless anesthesia system to ensure you don't feel a thing during the procedure.

We will isolate your tooth to ensure it remains dry during the procedure.

The doctor will make a small hole and clean the infected material from the tooth.

After the chamber is totally clean, the doctor will fill it with a special inert material.

The hole will be sealed with a filling, or a dental crown will be placed on your tooth. Our CEREC crowns are made in-house while you wait, so you don't have to wear a temporary crown and return weeks later.
Crowns in One Day
A dental crown is a durable "cap" that completely covers the part of your tooth that's above the gumline. It offers protection and strength to a compromised tooth. A crown may be used in the following situations:
A tooth that's severely damaged from decay.

A tooth that's cracked, broken, or severely worn down.

A tooth with a large filling.

As a restoration for a dental implant.

To improve the appearance of a tooth.

Dental crowns may also be placed on healthy teeth to support a dental bridge.
At most dental offices, the procedure of getting a crown requires more than one visit. You will have impressions made, which are sent to an outside lab where the restoration will be manufactured. You will then have to return to the office for the placement of the crown.
Thanks to our state-of-the-art CEREC technology, we are able to manufacture your beautiful, high-quality crown while you wait. The process is completely digital. First, we will take non-invasive images of your mouth. Those will be used to create a 3-D computerized model. This will be sent to our in-office milling machine, where your crown will be carved out of a single block of ceramic. Dr. Dores will then place the crown on your tooth. No temporaries, no follow-up visit necessary.
We Have Same-Day Bridges Too!
If you have a gap in your grin, a dental bridge will make your smile whole again. A dental bridge consists of an artificial tooth (or teeth) supported by dental crowns placed on the adjacent healthy teeth. Our bridges are stable, aesthetically pleasing, and thanks to our CEREC technology, we can complete the entire process in one visit!
If your teeth are in need of repair, we have the restorative dentistry procedures you need to make them look great and, more importantly, bring your mouth back to health. Dr. Dores will be happy to discuss which procedure or procedures will best fit your situation.
Schedule a consultation today at Dores Dental. You may get in touch with us online and we will get back to you. Or call our Longmeadow, MA office at 413-241-3995.