Putting Dental Anxiety To Rest In East Longmeadow MA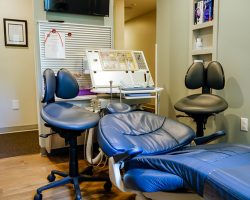 We hope that 2019 has been a good year for you and your family. If you did not make it in to see us, we hope that you will take this opportunity to get your oral health back on track. At our Longmeadow, MA dentist's office we want to know if there are any obstacles that we can help you remove so as to get the high-quality dental care you deserve. You see, we take dental anxiety and fear of the dentist seriously. That's why we strive to make it easy for you all the way around. Keep reading to hear how we are relieving dental anxiety these days, and then give us a call at 413-241-3995 to request your next preventive dentistry appointment at Dores Dental.
We Will Find Out What Works Best For You
There are different reasons behind every patient's dental anxiety, and they are often based on very real past experiences. Accordingly, the levels of fear are also unique to each person as an individual. There is no one-size-fits-all diagnosis in this realm.
No matter where you land on the spectrum of fear, we can help you work around those feelings. Each time you walk through the doors of our Dores Dental, you'll be greeted by Kind, compassionate, and professional staff. 
We always have patients fill out a questionnaire about how comfortable they are with the different procedures we offer. And then we introduce our menu of comfort options that are designed to take the edge off of your treatments. To make you feel more at home, you can also choose from a variety of beverages before your appointment such as water, juice, coffee, or soda. 
Then We'll Go Further
We can offer a safe and effective form of oral sedation for patients who need a little extra help relaxing while they are here. It's safe, effective, and easy. Dr. Dores simply prescribes a little pill to be taken ahead of your appointment to help you rest well the night before. You'll take another pill in the morning, which means you will need someone to drive you to and from your appointment. All of this means that you'll be far more relaxed and comfortable when you enter our practice the day of your procedure.
What's more, you won't be subjected any numbing injections here because our DentalVibe uses gentle vibrations to affect how your nerve sends pain signals to your brain. You'll feel no prick of the needle, and the vibration will help you become fully numb faster than you might expect. Beyond that, but the vibration helps the anesthesia work quickly.
You'll also love our Solea CO2 laser which can be used for procedures like dental fillings instead of the dreadful dental drill that used to be required for such things.
We'll Save A Spot For You When You Call
Please don't let dental anxiety or fear of the dentist keep you from having a healthy mouth and a great-looking smile. Instead, call our Longmeadow, MA dental office today at 413-241-3995 or fill out our online form to request an easy appointment. With the New Year approaching, there couldn't be a better time to take back your smile!