Preserve Your Healthy Jawbone At Dores Dental [BLOG]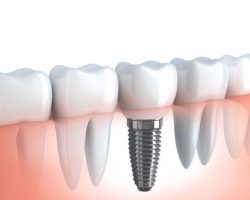 When you are an adult with missing teeth, there are a number of ways that this unfortunate situation will adversely impact your day to day life, like trying to figure out what to eat. Plus, it is no secret that there is the embarrassment factor that goes along with it.  But did you know that this predicament can hurt your jawbone too? True story. Your jaw is made to have teeth, so, when you think about it, it makes good sense that a lost tooth (or many lost teeth) can cause trouble. Keep reading to hear how to stop the worst from unfolding, and then be sure to call Dr. Dores today at 413-241-3995 and make your initial appointment for a dental implant consultation. Not only will this help keep your jawbone healthy, it will restore your smile, your chewing power, and your confidence.
Your Jawbone Is Vulnerable
Here's the deal: your teeth contain roots that extend down into your jaw. This helps hold your teeth in position. But when you chew, vibrations extend down into the bone tissue and stimulate it. This is what helps keep your jawbone healthy. 
When you've lost a tooth, you've also lost a lot of that stimulation. The bone tissue where the tooth's roots used to be starts to degrade and disappear. The longer you go without that stimulation from the tooth, the more bone loss you experience. Over time, this can weaken your jawbone and make it unhealthy. 
But we can prevent that from happening with a dental implant! For this modern restorative dentistry treatment, Dr. Dores will carefully place an implant in the jawbone. Then you wait a short while for the bone tissue to grow around the implant and lock it in place. Then you will get a replacement "tooth" (the crown) connected to that implant. 
There are other ways to replace a lost tooth. Dental bridges and dentures both work, but neither one helps prevent bone loss. Those might work for you if your jawbone is too weak already, but a dental implant is often a great choice for people. 
Other Benefits Of Dental Implants
Maintaining a healthy jawbone is just one of the perks of having dental implants. Besides that, you can expect the following: 
You will get a big boost in self-confidence at work and at play.

Your teeth coming together properly when you bite, which can help avoid TMJ/TMD disorders.

Teeth on either side of the implant will stay in place and won't become crooked. 

You can still eat, brush, and floss like normal. Dental implants are so close to being real teeth that you do not have to change your routine. 

You won't hurt the gums in that empty spot when eating hard foods.

Because you will be able to eat healthier, and feel happier, you might just live longer!  
Don't Delay, Call Today!
We hope you have been inspired to take the first step in preserving a healthy jawbone and taking back your mouth's functionality. All you have to do is contact Dores Dental today at 413-241-3995 or through our online form. Dr. Dores has been helping people start smiling big again after tooth loss for many years now.