Plan Now For a Teeth-Happy Halloween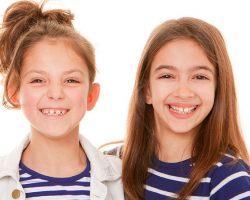 Ah, Halloween. Grinning pumpkins, crazy costumes, trick or treat, and boatloads of candy. Halloween doesn't have to be dental disaster for your child. Dr. Jim Dores of Dores Dental in Longmeadow, MA is happy to offer these family dentistry guidelines for a teeth-happy Halloween.
There's No Escaping The Sugar
Let's face it – short of confiscating your kid's entire haul of Halloween candy, he or she is going eat some of it. If you're not extremely vigilant, maybe too much of it. And the vast majority of candy will be loaded with sugar.
Obviously, some sugar is okay for almost all kids, but too much isn't. As much as you might like your children to eat sugar-free candy, that's just not in the cards. So, Halloween presents a challenge for all parents.
From a dental standpoint, the problem with sugar is that it's a food source for some of the bacteria that live in our mouths. Those bacteria combine with saliva to form a thin, sticky film call dental plaque. Plaque forms on the gum line around the teeth, and the bacteria secrete acid that attacks dental enamel and irritate the gums.
Your child can remove plaque just by brushing thoroughly twice a day and flossing once. If your child consistently does a great job, you're probably fine for Halloween.
Stay Away From Sticky
Sticky candies like caramel, toffee, and gummies are bad news for your child's teeth. That's because they tend to stick in the tiniest crevices in and between the teeth. It's hard for a child to remove all traces of the sticky stuff.
Sour candies and hard candies can also be a problem. Sour candies have a lot of acid content that can also erode tooth enamel. Hard candies tend to be held in the mouth for long periods of time, providing a feast for bacteria. And biting hard candies can lead to a broken tooth. If you think a tooth might have broken, call Dores Dental in Longmeadow, MA at once at 413-241-3995.
There Is Hope At Halloween
There's a better choice, teeth-wise, for Halloween candy – chocolate. Chocolate tends to dissolve pretty quickly in the mouth which deprives the bacteria of a lot of food. And chocolate is easy to remove by rinsing, brushing, and flossing.
Obviously, you want to limit your child's candy consumption at all times. So when the whining for candy becomes intolerable, reach for the chocolate over the other possibilities.
Think Outside The Wrapper
It's become quite acceptable to substitute fun things for candy at Halloween. Stickers and glow sticks are popular options as are "spooky" accessories. If you're trying to limit candy consumption – and protests — consider a trade with your child. And if you're giving out Halloween treats, you can do your neighbors a favor by handing out candy alternatives when the little Ninja Turtles and princesses come around.
After-Action Plan
Bad things happen to good teeth, even at Halloween. Parents aren't immune, either. You might consider scheduling family dentistry cleanings and examinations to make sure that all is right with your family's teeth.
Call Dores Dental in Longmeadow MA at 413-241-3995 to schedule an appointment.