Pain-Free Dentistry Is Closer Than You Think [VIDEO]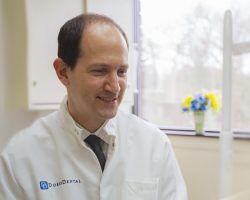 Just the thought of going to the dentist creates fear and dental anxiety for some patients. But avoiding the care you need will inevitably lead to problems like cavities, gum disease, and much worse. So, what should you do if you are feeling similarly about making an appointment with a dentist in East Longmeadow, MA? Call Dores Dental today at 413-241-3995 and make a pain-free dentistry plan with Dr. Dores. Around here, everyone is prepared for using pain-free technologies, such as: 
DentalVibe: A device that uses vibration to interfere with pain signals so you don't feel the local anesthesia being administered. 

Solea CO2 laser: A specialized laser that can replace the need for a drill. No noise, smells, or sensations from drilling!
But you don't have to take our word for it. Check out the video clip below to hear from this patient who enjoys a high level whenever they are here. Then be sure to contact us ASAP to ensure your own happy ending.