Pain-Free Dentist Appointments with Sedation Dentistry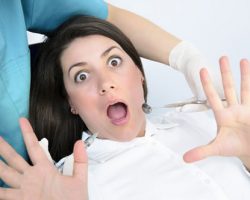 If you experience fear or anxiety over going to the dentist, so much so that you have put off a routine checkup or necessary dental treatment, it's time to find out what sedation dentistry can do for you. 
Dental anxiety is more common than many people realize. Millions of people avoid or delay appointments with their dentist due to anxiety. But what far too many people don't know is that there is a solution available to make even the most anxious patients feel more comfortable during their time at the dentist. It's called sedation dentistry and it can be life-changing for some people. Keep reading, and then give us a call at 413-241-3995 to request your gentle dental appointment in East Longmeadow, MA.
A Great Dental Sedation Option
At Dores Dental, we have access to sedation to help you feel more relaxed during your dental procedure. It all depends on your level of anxiety and what kind of dental work needs to be done as to whether or not you'll need it.
At our East Longmeadow office, we are proud to offer this great dental sedation option:
Oral sedation

Oral sedatives are commonly used to help calm the nerves of anxious patients and help them feel more relaxed during their appointment. An oral sedative is given in pill form for you to take about an hour before your scheduled appointment begins. This gives the sedative time to take effect. With oral sedation, you will be awake for your appointment but feel much more relaxed. You will need someone to drive you to and from your appointment, because it isn't safe to drive until the effects of the sedative have completely worn off.
Is Dental Sedation Something I Need?
When you call our office to schedule an appointment, share your concerns with us and we can discuss if this option may be appropriate. 
Rest assured, your comfort is important to us. We want to make sure you maintain your oral health by getting the best dental care possible and we don't want you to have to suffer through it. At Dores Dental, we have decades of experience between us and we will work hard to make sure you are well taken care of. Call 413-241-3995 today to learn more and schedule your appointment.