No Need To Fear, Laser Dentistry Is Here!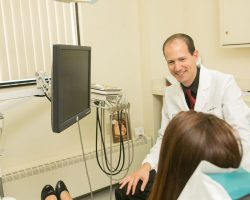 Hello and welcome to the online home of Dores Dental, a forward-looking dentist's office located in Longmeadow, MA. If you are ready to boost the health and appearance of your smile, then we are ready for you. We have invested heavily in the sort of tools, training, and technology that will be required to take your smile where it needs to go. Today we wanted to tell you all about the Solea laser, which is a perfect example of how modern dentistry makes it easier than ever for you to achieve your oral health goals! You will be happy to know that this amazing laser eliminates the off-putting sounds, rough vibrations, long healing time, and all the discomfort associated with the old-fashioned dental drill. And it can be used in conjunction with many treatments. Keep reading to hear more and then be sure to contact us to arrange for your next appointment with Dr. Dores! Your mouth will be in good hands with us!
Dental Fillings
Dentists don't like cavities. But truth be told, small amounts of decay won't amount to bigger problems if they are dealt with right away, like with a dental filling treatment. Where does the laser come in? Well, the laser helps make the filling process more pleasant and enjoyable. Besides curtailing strange smells and sensations, the laser also does away with the need for local anesthetic, which essentially means no more invasive needles!
Periodontal Disease Treatment
Gum disease (which ranges from gingivitis to full-blown periodontal disease) is nothing to fool around with. It has been linked to respiratory disease, heart disease, and even some forms of cancer! We can tell you that early diagnosis and treatment will be necessary to preserve your health. During our treatment procedure, we will use the laser to comfortably eradicate bacteria that has advanced below your gum line threatening to loosen your teeth and worse. Our approach will vary according to the depth of damage already present.
Gum Reshaping
We now have a cosmetic procedure is great for fixing the appearance of a "gummy" smile. With Dr. Dores, your recovery and healing times are significantly reduced because the laser we use actually cauterizes your soft tissues.
Addressing Dental Anxiety And Dental Phobia
Dental anxiety is dangerous since it can prevent folks from coming to see a dentist for all of the care that they will need to keep their mouths healthy and free of decay, disease, and the like.
When you suffer from this condition, you will likely miss out on your regular dental cleanings that help eradicate all the the tartar and plaque that hangs around even after your best efforts at home with a brush and floss.
Additionally, if you are afraid of the dentist, you'll forego oral exams that allow us to see if anything seems amiss in your mouth or if there are symptoms of problems elsewhere in your body (like cancer).
This won't be good for you because health issues such as tooth decay, periodontal disease, and even cancer can gain get a head start before you even know there is a problem.
As we've already alluded to, our laser helps to reduce fear by eliminating pain, discomfort, alarming sounds, weird smells, and so forth. Plus, it reduces the time it takes to recover from certain procedures. What's not to love about that?
Start Smiling Again With Laser Technology
Contact us right away to schedule your next appointment in Longmeadow, MA! We'd love to see your smiling face in one of our chairs this summer!