Make Your Smile Better With Invisalign Aligners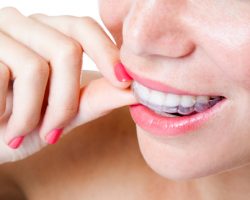 Now that Halloween is over, it's time to put aside your fears to look forward to doing something for yourself. We don't mean eating all that candy you have in your house.
Instead, it's time to straighten your teeth with Invisalign aligners in East Longmeadow, MA. Here's why you should think about it.
Boost Your Confidence
Millions of people, including adults, start orthodontic care every year because they want to fix crooked teeth and correct issues with their bite. Invisalign could be your path to a new and improved smile that you want to share with your friends, family, coworkers, and followers on social media.
Improve Your Health
Invisalign won't magically make your health better. However, when your teeth are straight, it is easier to maintain a healthy mouth. When your teeth are properly aligned, you can more effectively clean your teeth to prevent cavities, gum disease, and other issues.
Be Discreet
The first two benefits we mentioned are true of any orthodontic treatment. This sets Invisalign apart from braces. The aligners are clear and custom-made to fit your teeth. This makes them discreet to wear, which can make it easier for you to wear them compared to braces.
Ready to transform your smile? Call the Dores Dental team at 413-241-3995 to find out more or fill out our online form to request your future appointment.