Make Your New Teeth Better with Dental Implants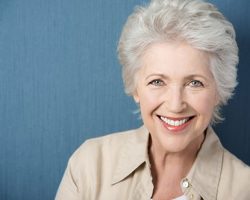 In 1965, restorative dentistry took a leap forward. That year, Gösta Larsson became the first person to receive what are recognized as modern dental implants. Larsson would go on to live for more than 40 years with his replacement teeth.
Today, we use implants to make teeth replacement function practically as well as healthy, natural teeth. With implants to support and secure your dental restorations, you can regain more than just your smile. You can restore your quality of life, too.
If you are missing teeth or are tired of living with loose-fitting dentures, then you owe it to yourself to talk with Dr. James Dores about implants.
Call 413-241-3995 today to schedule a consultation at Dores Dental in East Longmeadow, MA.
Strong Bites, Healthy Smiles
Modern implants allow you to do more than previous generations could. With implant-supported restorations, you can bite with nearly as much force as you could when you have a full set of healthy teeth. As a result, you can eat a wide variety of food. You can bite down on an apple, crunch on some carrots, or chew a delicious bite of steak or chicken.
This also means you can feel confident about eating the food that you enjoy. Many denture wearers have told us about their problems with eating. Many of them decided to get implants because they had grown tired of eating soup and soft foods. No matter how much you may like mashed potatoes, you probably don't want them for every meal. By getting implants, you can put what you like on your plate again.
Now, we also understand why many people have gotten dentures over the years. They are more cost-effective (initially) than implants. Dentures also give you the appearance of a complete smile again. That's important, but standard denture won't prevent the bone loss that affects your jaw when you are missing teeth. That bone loss is also why dentures need to be relined or replaced from time to time.
As your jaw shrinks, it changes how dentures fit. As your jaw gets smaller, your dentures become looser, regardless of how much adhesive you use. Implants are embedded in your jaw. They also provide stimulation, which promotes new bone tissue to grow and which keeps your jaw healthy and strong. In fact, this is part of the reason you are able to bite and chew naturally when you have implant-supported dentures.
Security & Stability
Implants are artificial roots for your replacement teeth. Since they are placed directly in your jawbone, they provide secure and stable support for your new teeth.
For patients missing a single tooth, an implant-support crown will fill that gap in your smile. For patients missing multiple teeth, an implant-supported bridge provides what you are missing.
And for patients missing a full arch of teeth, implant-supported dentures can be life-changing.
We've seen the difference that implants can make in someone's confidence and quality of life. We want you to regain your healthy smile, too.
Call the Dores Dental team at 413-241-3995 to find out more or fill out our online form to request your future appointment.