Make This Holiday Season The Last With Missing Teeth [Blog]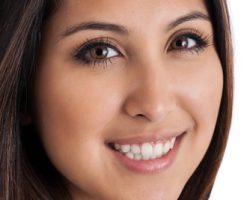 With most of the winter holidays wrapping up, we're eager to hear from our patients about their time with loved ones. We like getting to know everyone, whether they share stories about their first Christmas with a new baby in the family or had a better than expected time with their in-laws. Often, we hear from our patients about how they wish they could have enjoyed the meal gatherings but couldn't due to missing teeth.
If your holidays could be carefree with teeth replacements, talk to Dr. James Dores about your options. Dental implants are the most reliable option that can let you pick what you want from the holiday spread. You don't have to be embarrassed about slipping teeth, either.
If this sounds good to you, read more below. Then call 413-241-3995 today for a consultation at our Longmeadow office. This may be your last holiday ever with missing teeth!
Find Out The Secret Behind Dental Implants
So, if you aren't familiar with teeth implants, you might wonder why we told you they're usually the best option for replacing teeth. Let us explain by backing up a little. When you have teeth, those teeth roots help transfer biting forces to your bone underneath. This helps keep the bone strong and healthy. When you lose teeth, that stimulation is no longer there. The pressure is transferred to your gums instead, and your jawbone begins to deteriorate.
Implants solve that problem. Why? Because an implant is an artificial tooth root. We place it where your real tooth root once was, then we attach a replacement tooth on top. The implant actually joins with your bone, so it becomes a part of your mouth. When you eat with an implant, that pressure is transferred to the implant – which is part of the bone – instead of your gums. So it keeps providing that stimulation your jawbone needs to stay strong. No other tooth replacement can do that.
When your jawbone is preserved with implants, you can expect:
A fuller, more youthful-looking face

The ability to eat harder, chewier foods like apples, nuts, and chicken

A healthier body since your diet can be healthier and more diverse

Healthier nearby teeth, which can't drift into the empty spaces where teeth once were

A tooth replacement that should last a lifetime
Select An Option Whether You're Missing One Tooth Or All
Fixed bridges can replace one tooth or a few in a row. Dentures can replace multiple teeth. Tooth implants can replace any number of teeth. Here's how:
We can attach a crown to a single dental implant.

Though implants require a healing time of a few months, you may be able to get your crown made and placed in one visit. We are able to offer this option to many patients thanks to our CEREC

same-day crowns

.

We can attach a dental bridge to two or more implants.

With an implant-supported bridge, we don't necessarily have to use an implant for every missing tooth. We'll do a thorough exam to determine the best number of implants for your situation.

We can attach dentures to implants.

Like implant-supported bridges, we only have to use a few implants to secure dentures in your mouth. In some cases, we can even modify your existing dentures. Our patients love that their teeth can stay in place with

this option

.
One of the best parts of using implants is that they don't affect your other teeth. For example, when we place a fixed bridge, we have to shave down your teeth that the bridge attaches to for support. With implants, the replacement teeth go directly on top. You can preserve more healthy tooth structure this way. A conservative approach like this is usually best when it comes to your mouth.
If you're tired of cutting up your holiday ham into little pieces, skipping the pecan pie, or worrying your teeth will come out in your cup of eggnog, it's time to consider implants. To see how Dores Dental can replace your missing teeth, call 413-241-3995 today or use our online form. We'll help make your holidays more enjoyable!