It's Always the Season for Athletic Mouthguards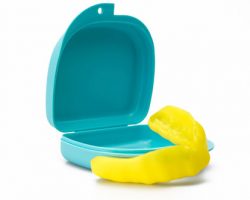 April is many things, including National Facial Protection Month. That makes this a good time to remind you of the importance of athletic mouthguards, which you can get at our East Longmeadow, MA dental office.
Mouthguards Make a Difference
Athletes who don't wear mouthguards are 60 times more likely to suffer dental injuries than athletes who do. Think of a mouthguard like a seat belt or airbags. They may not prevent an accident from happening, but they reduce the effects of an accident if it does occur.
Make a Mouthguard Part of Your Uniform
You wouldn't step on a baseball field without a glove. You wouldn't step into the batter's box without a helmet, either. By the same measure, you should be putting on a mouthguard if your sport includes:
Physical contact
Flying objects (balls, pucks, flying discs, etc.)
Jumping
Changing speeds
Changing directions
Custom Care is Best
Any mouthguard is better than no mouthguard. However, a custom mouthguard is smaller, more comfortable to wear, and offers better protection for your teeth and jaw.
Keep your winning smile long after the games are over. Call the Dores Dental team at 413-241-3995 to find out more or contact us online to make an appointment.