Invisalign Makes Teens Smile In Longmeadow, MA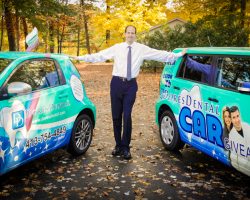 Invisalign Makes Teens Smile In Longmeadow, MA
Hello!
Welcome back to our Longmeadow, MA dental blog!
Today we want to talk about everybody's favorite topic: braces. Try to contain your excitement! In all seriousness, orthodontic treatments have done an enormous amount of good in the lives of millions of Americans, over the years. It's just that the stereotypical treatment process itself has always left something to be desired.
Amazingly, Invisalign opened up the possibilities and changed the way we approach orthodontic treatment, when it burst onto the scene back in the 1990s. But Invisalign was initially engineered to shift stubborn adult teeth and to give grown-ups a more dignified treatment experience than what was previously available.
That was a watershed moment in dentistry, but it left teens out in the cold, so to speak.
Since adolescents are a big part of the orthodontic treatment population, we are excited to now be able to offer a way for younger patients to get in on the advantages of Invisalign at Dores Dental.
You can rest assured that Invisalign for Teens works more or less the same way as the original Invisalign system.
That is to say that Invisalign for Teens relies on clear, nearly invisible plastic aligners to discreetly straighten out misaligned teeth without drawing unwanted attention to your mouth while it is under repair!
The advantages of Invisalign are immediately clear!
Your Lifestyle Doesn't Have To Change
Consider this: once conventional metal braces are installed, they are there for the duration of your treatment, like it or not.
Invisalign aligners, by contrast, are designed to be removed whenever necessary!
You can take them out when you are sitting down to a meal and just pop them back in when you are through. The great thing is that they won't trap food like metal braces, so you won't have to stay away from the foods that you love.
Since there aren't any monthly in-office adjustments, Invisalign doesn't feel like it is sucking away your life in the same way that typical orthodontic treatment would.
Invisalign Aligners Are Easy To Maintain
Both you and your teen will love the fact that there are no special tools needed to clean your Invisalign aligners. You just remove your clear braces, rinse them under warm water, and re-insert them when you are through. You can also brush your teeth just like you used to. And keep flossing and using mouthwash as you normally would. No big deal!
Hold Your Teen Accountable For Results
Our team understands that orthodontic treatment is a significant investment of your time and money. We also know how teenagers can be! Still, all parties concerned want the treatment to be a big success. That's why Invisalign has included a special feature to allow you to hold your teen accountable for following the directions properly.
That's right, there is actually a built-in monitoring system to make sure the treatment keeps moving along according to our master plan.
Rather than spying on them or nagging them about following through, all you have to do is check their gear. Here's how it works: when the aligners are worn properly, a small blue dot on the back of the aligners will slowly disappear. This will let you know that everything is still on track.
The Transformation Happens Fast
Invisalign can work minor miracles for the right candidate, and it is able to do so in a fraction of the time that traditional braces would take to deliver the same results. As you probably guessed, the treatment timetable all depends on the severity of the issues that we are working to resolve, but Invisalign usually wraps up in about 12 months time, which is much better than the 2-3 years old-school braces would require.
When we are finished, you will be astonished by the results. The health and appearance of your teen's smile will be in tip top shape!
Learn More, Get Started!
We hope that you will be inspired by today's blog post to take the next step!
Contact our Longmeadow, MA office right away to make an appointment for an orthodontic consultation!
Start your teen's smile transformation today!