Gum Disease Treatment Is Easy Here | Longmeadow, MA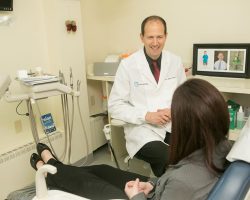 At Dores Dental we are pleased to provide top-quality restorative dentistry solutions. As such, you can always count on our Longmeadow, MA dentist's office to save your smile from gum disease, which first manifests as gingivitis. This infection occurs when harmful bacteria starts to irritate the gums, making them red and swollen and causing them to bleed. If not detected and treated early enough, that bacteria can lead to a more serious infection that has been linked to major health concerns like hypertension, heart attacks, and diabetes.
Check out today's video link, in which our friends from the American Dental Association explain how gum disease treatment typically works. After viewing the clip, be sure to contact us  right away to schedule your consultation with Dr. Jim Dores!