Get Your Smile Holiday Photo-Ready!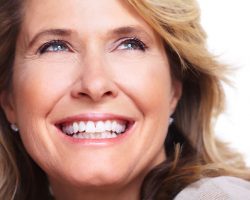 Let's face it – these days, practically everybody has a smartphone, and those smartphones have cameras. This time of year, the flashes will be going off rapid-fire during whenever people celebrate. Is your smile ready for the round of holiday parties and family get-togethers? If not, Dr. Jim Dores of Dores Dental in Longmeadow, MA can use quick and relatively inexpensive cosmetic dentistry techniques to give you a smile that's truly camera ready!
The "Humble" Dental Cleaning And Examination
Start with the basics to get your smile holiday photo-op ready. While not strictly a cosmetic dentistry procedure, a dental cleaning from Dores Dental will leave your teeth perfectly clean and feeling great with every trace of plaque removed. Dr. Dores can detect the slightest problems with your mouth during his examination and tend to them promptly so that you're not bothered by dental issues during this festive season.
Those Pearly Whites
A beautiful smile requires white teeth, but many people are unhappy with their smiles despite using over-the-counter whitening products. When it comes to safely getting the exact shade of white you want for your smile, you simply can't do better than the professional teeth whitening available through Dores Dental in Longmeadow, MA.
If anything can be considered the mainstay of cosmetic dentistry, it's teeth whitening. We offer two whitening programs: Philips Zoom and Sinsational Smile. Dr, Dores will help you determine which program will best provide the whitening results you want.  He'll consider:
Gradual versus immediate results

The length of treatment for each program

Cost

In-office versus at-home whitening

Tooth and gum sensitivity
For more immediate results, Philips Zoom is the answer. You'll see immediate improvement in the shade of white of your teeth in just one in-office session. Three coats of whitening gel are applied during your appointment, so there's a bit more time in the chair.
Sinsational Smile is a single 20-minute whitening appointment followed by a take-home pen that you use to continue the treatment.
With professional teeth whitening from Dores Dental in Longmeadow, MA, your smile will look absolutely sensational for all those holiday photos.
Tooth Bonding
Some discolorations in teeth don't respond well to whitening agents. And chips, pits, cracks, and tooth irregularities detract from the beauty of your smile. Dr. Dores can use a resin material, shaded to match the whiteness of your teeth, to conceal minor smile flaws. This is a quick, painless, and very affordable cosmetic dentistry option.
Dental Veneers
Veneers are one of the best investments you can make in your smile. Today's dental veneers are very durable and stain-resistant. With care, they can last 15 years or more. You can choose to cover one or several flawed teeth with veneers, or create a whole new smile.
With our CEREC technology, we can create your veneers and place them in a single session! Dazzle your friends and family with your new smile this season!
Other Cosmetic Dentistry Options
Some cosmetic dentistry treatments won't do much for your smile during this year's holidays, but they can result in permanent smile improvements. To learn more, visit our Cosmetic Dentistry page.
The great smile you want for the holidays is waiting. Schedule an appointment with Dr. Jim Dores of Dores Dental in Longmeadow, MA by calling our office at 413-241-3995.