Get a New Smile With Dental Veneers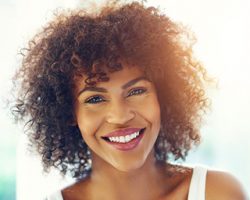 If you look in the mirror and the condition of your teeth causes you to cringe, Dores Dental of Longmeadow, MA may be able to cover up those flaws in your choppers and give you a new smile with dental veneers.
This is the perfect time of year to improve the look of your smile. We naturally become more social as the weather warms up and we move into spring and summer. It's time to get ready for family get-togethers, outdoor festivals, weddings, reunions, and many other social activities.
We can help you get your smile ready for all the activities of the season. Call us today at 413-241-3995 to schedule your veneers consultation.
Learn More About Veneers
Veneers are thin shells of natural-looking, tooth-colored material, usually made out of porcelain. We fit them over the front of your teeth to transform your smile quickly. In fact, many people refer to veneers as "instant orthodontics" because of their dramatic impact on your smile.
Teeth veneers are a fantastic way to conceal a number of cosmetic tooth flaws, including teeth that are chipped, cracked, and stained. Custom veneers will also repair small gaps between teeth as well as teeth that are oddly shaped and slightly uneven.
Veneers can cover up those smile imperfections that have been building up over the years, giving you a bright white smile you'll be proud to show off.
In addition to beautifying your smile, new veneers will strengthen teeth they are bonded to, helping to prevent further problem to these teeth.
Plus, the best part of it all is that Dores Dental can use the cutting-edge technology of the CEREC system to make your custom veneers in just one easy visit!
Can you imagine what this means to you? If your high school reunion is coming up in a couple of weeks and you forgot all about it, you still have time to get that beautiful smile you've been wanting. You can walk into your reunion smiling brightly and full of confidence. Just call our office and leave the rest to us.
Maybe there's a big wedding coming up in your family this spring. Your cousin finally decided to tie the knot and you know there will be extended family members there you haven't seen in a while.
Enjoy the Ease of Veneers in One Day
Dr. Dores will first make sure you are good candidate for dental veneers by thoroughly examining your teeth and taking digital X-rays of your mouth.
To begin making your new veneers, we will take digital impressions of your teeth. There won't be any of the messy goop from traditional dental impressions. Then our CEREC machine will craft your new restorations right in our office! You won't have to wait weeks for them to be made in a dental lab.
Dr. Dores can adjust the shade of the veneers as needed, so that you end up with just the right smile for your big occasion. You walk out that same day with a perfect smile.
Choose From Other Cosmetic Options Too
If we determine that teeth veneers aren't a good option for you, we have a number of other cosmetic dentistry options to get you the smile of your dreams.
We can always whiten your teeth, use tooth bonding to repair small flaws like chips and gaps, or do tooth contouring to smooth out rough teeth and give them a more even appearance.
For crooked and misaligned teeth, Invisalign orthodontics is always a great option. Invisalign uses clear, plastic teeth aligners to discreetly straighten your teeth in about 12 months. There are no wires and no uncomfortable metal!
Whatever your plans are this spring and summer, Dores Dental can work with your to get your smile ready to meet the world!
Call our Longmeadow, MA office today at 413-241-3995 to get your new smile with dental veneers. Or submit our online form.