Get Family Dentistry Treatments Before Spring | East Longmeadow, MA [Blog]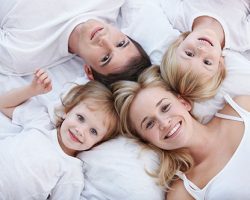 Finally, the weather is starting to change for the better. Baseball leagues are getting some practice planned, wedding invitations are going out, and much more. That's because spring brings people together.
But are your family's smiles ready? Between all the photos taken at major events and the risk of more damage to already-weak teeth, your family needs dental treatments before spring and summer are over.
That's why you need to call Dores Dental today at 413-241-3995 for family dentistry treatments. From cosmetic work to repairing teeth, our team knows how to work well with children and adults alike.
Dental Spring Cleaning?
Everyone knows about spring cleaning. After all those months indoors to avoid the New England weather, the warmer months are a great time to open your house up and start cleaning and organizing. But it also works as a great reminder to get the needed cleaning done. When springs comes, you clean up around the house.
That means spring is also a great time for dental cleaning and exams. You know that you have to go to the dentist's office every six months, but it's not hard to forget about it. (Especially when dealing with all that snow, ice, and freezing temperatures.) That's a big problem, as most dental problems start so small that you don't notice anything is wrong. For example, you cannot see the beginning of cavities and gum disease.
Thanks to Dr. Dores' advanced training and modern technology, you can identify such problem in their early stages. This helps you correct any such issues easier and more affordably.
Many Events, Many Pics
Part of why you need to correct dental problems for spring is the upcoming major events that tend to happen. Some might fall in summer, but the need remains: People will be taking plenty of photos in spring and summer, so your smile needs to be ready to be immortalized like that. Whether it's weddings, graduation parties, family gatherings, or class reunions, do you want to show stained, damaged teeth when you smile?
Here are a few cosmetic dentistry treatments your family can get at our East Longmeadow, MA dentist's office. While children might not need whiter teeth, everyone needs a smile that looks great. You don't want anyone growing up dreading those photos.
Teeth whitening treatments:

After years of eating chocolate and drinking coffee or wine, your teeth can look yellow or brown instead of "pearly white". That makes you look older! Skip the store-bought kits and go for professional-strength teeth whitening instead. This makes you look younger and builds your self-esteem.

Tooth bonding:

This treatment is affordable and effective, which is why it's so popular. Here, Dr. Dores will expertly layer a tooth-colored resin on a damaged tooth. This fills in chips or cracks, covers stains, and can even help with worn edges.

Dental veneers:

If you're looking for a quick, dramatic change to your smile, here it is! Dental veneers are durable covers for the front of your teeth. Once bonded there, they transform your smile by hiding stains and damage. When you smile for the camera, you'll definitely feel confident again.

Invisalign:

Crooked teeth can happen even if you had braces because they are never locked in place. Worse, such teeth really stand out in a bad way. Even if your smile is perfectly healthy, a few out-of-place teeth makes it look much worse. But you don't have to get braces! Invisalign is a series of clear, plastic trays that fit over your teeth. Within one year, you can have a straight, even smile.

Crown lengthening:

A great smile has the right balance between enamel and gums. If you have a gummy smile, then you could use crown lengthening. Dr. Dores invested in a Solea CO2 laser for a quicker, more comfortable treatment — and a balanced smile.
Being Safe When Outside
When the weather finally warms up, people are desperate to get outside. From riding a bike to playing basketball and baseball outside, your teeth are actually at risk. One bad fall or injury can hurt your teeth. But if they are already damaged, the risk of a serious problem goes up dramatically. That's why your family needs restorative dentistry treatments like these.
CEREC same-day dental crowns:

What's better at strengthening a weak tooth than adding protection to it? Dental crowns are shaped to look like a healthy version of the damaged tooth, and it fits snugly over it. This prevents damage from getting worse. And thanks to our state-of-the-art CEREC technology, you can get your dental crown in one day.

Tooth-colored fillings:

Most people get at least one cavity in their life, and the traditional fix still works. However, you don't have to get fillings made from silvery metal that does not fit your smile. With composite and porcelain fillings, you can strengthen a tooth while keeping your smile attractive.

Root canals:

If bacteria get through the enamel, it infects the dental pulp inside. This is where the blood vessels are that "feed" the tooth, so this infection makes your tooth weaker from the inside out. A root canal can gently remove the infection and stop that tooth from getting more damaged.

Dental bridges:

If you are missing a tooth, you need that replaced. A dental bridge avoids surgery and adds a natural-looking replacement tooth. This not only makes your smile look better, but it helps strengthen it by supporting the teeth on either side of that gap.

Dental implants:

For a longer-lasting replacement option, you can get a dental implant instead. While this does require oral surgery, it includes an artificial tooth root that helps keep your jawbone healthy in case you take a hard fall.
Enjoy Family Dentistry Treatments
Dr. Dores and the entire team knows how to work well with patients of all ages, and they can help your entire family get their smiles ready for spring and summer. Call Dores Dental today at 413-241-3995 or use our convenient online form to schedule an appointment for anyone in your family.