Denture Care and Cleaning Guide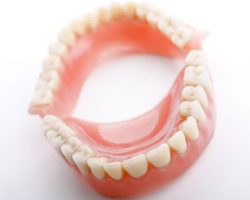 Congratulations on your new set of dentures and your gorgeous new grin! If you've been living with missing teeth, getting dentures can be utterly life changing. Once again, you have a beautiful — and complete — new smile, restoring your self-esteem and your ability to eat and speak properly. And today's dentures are more lifelike than ever before, so you can have complete confidence in your appearance. 
At Dores Dental, our comfortable, custom-fitted dentures restore the beauty and function of your smile. If you have any questions about their care or cleaning or it's time to schedule a checkup, call our East Longmeadow, MA office at 413-241-3995 or request an appointment through our online form. 
What Can I Eat with My New Dentures?
Dentures may alter the position of your tongue, cheeks, and lips, and may take a little while to get used to. Your mouth may also produce excess saliva during the initial adjustment period. But don't worry — in no time at all, your mouth will adjust and your dentures will begin to feel completely normal and comfortable. 
When you first get your dentures, it's important to start out with a soft foods diet in order to avoid irritating your gums and jaw muscles. Soft foods include applesauce, scrambled eggs, mashed potatoes, puddings. 
As your mouth acclimates to your dentures, you can start introducing solid foods. Be sure to follow these tips: 
Cut food into small pieces

Sit down for meals and take your time — don't rush

Chew using both sides of your mouth evenly

Chew thoroughly, taking your time

Get enough liquids
Eventually, after getting your restorative solution, you will be able to eat most things with ease and your oral health and overall wellness should improve accordingly. However, there are some foods that should be avoided — or at least eaten with care — including: 
Crunchy raw fruits and vegetables

Bread with hard crust

Crackers and hard snack foods

Corn on the cob

Popcorn

Nuts and crunchy peanut butter

Tough or stringy meat

Gum
How Do I Care for My Dentures?
Follow these care and cleaning tips to keep your dentures free of stains and looking good!
Always handle your dentures with care, making sure not to damage the clasps or plastic.

After eating, rinse your dentures thoroughly to remove bits of food and other particles. Do it over a sink with some water in it or a soft surface so they don't break if you drop them.

Clean your mouth with a soft-bristled toothbrush after you remove your dentures.

At least once a day, brush your dentures.

Soak your dentures overnight using a denture-soaking solution or water.

Rinse your dentures thoroughly in the morning, especially if they've been in a denture-soaking solution, which can be harmful to your mouth.

Be sure to visit us regularly. We will give your dentures a thorough professional cleaning, check and adjust the fit, and examine your mouth for signs of problems.
Modern dentures are a fantastic way to restore a broken smile. With proper care and cleaning, they will last several years. To schedule an appointment at Dores Dental, call our East Longmeadow, MA office at 413-241-3995 or fill out our online form.