Dental Implants Have Many Benefits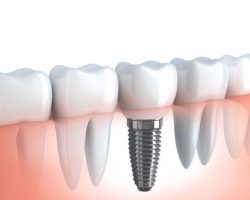 At Dores Dental, we can quickly restore your health, appearance, and self-confidence following an episode of tooth loss as an adult. How can we do that? With a life-changing dental implants procedure! In fact, the benefits provided by implants are what this post will focus on. So, keep reading for some good information, and then, be sure to call our East Longmeadow, MA dentist's office at 413-241-3995 to see about scheduling a consultation appointment for your restorative dentistry solution. 
The Closest Thing To The Real Thing
Humans have been finding creative ways of replacing missing teeth for centuries. It goes without saying that many of these solutions were primitive and painful. However, in this day and age, we can build on all the ingenuities of earlier eras to provide something truly special for our patients who are currently living without a full set of teeth. Our dental implants work in a completely different way than any other tooth replacement option that has come before. This is because they get placed directly into your jawbone, becoming one with your body. They don't merely rest on top of your gums like conventional dentures. And they don't rely on other teeth to stay in place, like bridges. When topped with dental restorations like crowns, bridges, or dentures, they have the capacity to look and function like real teeth.
The Menu Is Wide Open Moving Forward
If you have been trying to eat decent meals without a full set of teeth, you no doubt have experienced a fair amount of frustration and embarrassment. Implants can fix that for you. After our procedure you will be able to eat all the foods you love again, not just the soft stuff that is easy to swallow. And that brings us to our next point, which has to do with your total body wellness.
The Whole Body Will Benefit From Implants
Like we said, dental implants are made to connect right to your bone. This allows them to transfer the pressure of chewing to that bone, just like natural, healthy teeth would be able to do. That kind of pressure stimulates the bone and keeps it strong. What's more, if you are missing teeth, you are more likely to go for carb-heavy diets and skip crunchy, nutritious foods, like fruits and vegetables. A diet lacking the right nutrients can lead to poor health in short order. Not being able to chew food properly because of dental problems can also lead to digestion problems. Dental implants can help you eat the foods you need for the nutrition your body craves. This is probably the best thing: you will likely extend your lifespan by getting this dental procedure!
The Look You Want Will Be Within Reach
Beyond the oral health and general wellness benefits, you'll love the way you'll look when Dr. Dores is finished with you. Without all of your teeth, wrinkles will start to develop around your face, and before long, your cheeks will take on a caved-in look. That's in part because the teeth aren't physically there to fill out the mouth, and also because the bone is slowly dissolving. However, implants can restore your more youthful appearance, allowing you to recover your self-esteem along the way.
The Choice Is Yours!
We hope you will be inspired to take the next step toward a healthier, better-looking smile. When you come in for your consultation appointment with Dr. Dores, he will perform a thorough exam, take digital X-rays, and review your health and dental habits to see if this is the best path for you. You can call us at 413-241-3995 to schedule your visit to our East Longmeadow dentist's office, or do so online.