Dental Implants Are the Closest Thing to Your Own Teeth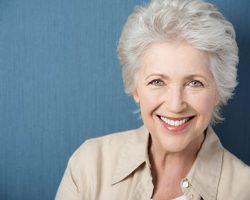 There was a time when the only options to replace missing teeth were dental bridges or dentures. Dental implant have revolutionized the replacement of missing teeth. Dental implants are the ultimate solution to return your mouth as close to like-new functioning as possible. Dr. Dores of Dores Dental in Longmeadow, MA both places and restores dental implants, meaning that you can have the entire procedure done in one office.
About Dental Implants
Dental implants are composed of two parts – the implant itself, and the restoration that is attached to it.
Implants are small, extremely strong screws that are usually made of titanium. The screws are inserted into the jaw, where the bone fuses firmly to it. Then, the restoration – a single solid crown (replacement tooth), a dental bridge, or a denture is attached.
The implant replaces a missing tooth root and transfers the pressure of chewing to the bone. That helps the bone to remain strong. Dental implants are the only form of teeth replacement that return nearly 100 percent of your chewing power.
The implants themselves should last the rest of your life with care. That makes implants an excellent investment for many people.
Who is a Candidate for Dental Implants?
If you're in good general and oral health, implants may be an option for you. If you have extensive decay or active gum disease, it's best to clear up those conditions before proceeding with implants.
However, some people choose to have their failing teeth extracted and replaced by dental implants. In some cases, Dr. Dores is able to place the implants immediately after teeth are extracted. Otherwise, a healing period of 2-3 months may be required.
One of the primary considerations is the density and thickness of the underlying bone. Chewing places tremendous pressure on the jaw, and the bone has to be able to safely support the implant or implants. When a tooth is missing, the underlying bone begins to slowly deteriorate. The length of time that one or more teeth have been absent may be a factor.
Implant-Supported Dentures
One of the most exciting uses for dental implants is to support one or even both full arches of teeth. Dentures are a good solution for many people, but dentures tend to slip around in the mouth and may even pop out unexpectedly. Dentures can also require care in eating certain foods.
Implant-supported dentures are firmly held in place and absolutely will not slip or move around. For people who are missing most or all of their teeth, implant-supported dentures are the answer. They fit, feel, and function just like your natural teeth.
Getting Started With Dental Implants
Your journey to eating the foods you love and smiling without embarrassment begins with a consultation with Dr. Dores. To arrange an appointment, call our Longmeadow, MA office at 413-241-3995. You can also use our convenient online form to arrange an appointment or to ask us a question. One of our staff members will respond as soon as possible.