Dental Emergency Tips You Need To Know | East Longmeadow, MA [Blog]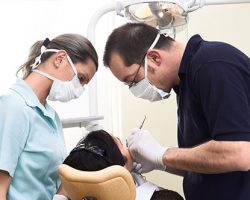 Injuries and accidents don't happen on a set schedule. If you have a problem with your teeth or gums, call Dores Dental immediately at 413-241-3995 for an emergency appointment. Same-day visits are often available, and we are open six days a week. Once the call has been made, here are some dental emergency tips to help you stay in control of the situation.
Do These First
No matter what your dental emergency is like, there are two things you should always do first.
If you are bleeding, that needs to stop! Use some sterile gauze (or a very clean cloth) and apply direct pressure to the cut. Hopefully, this will be enough to stop the bleeding. But if not, you need to visit your local emergency room or urgent care center immediately. Stopping any bleeding is your biggest concern.
Once that's taken care of, your next step is to call Dr. Dores immediately at 413-241-3995 and tell us what happened. Then we can help you know what to do next. Our East Longmeadow, MA office is open six days a week, and you can often be seen the same day that you call.
And do not worry about whether your situation is a real emergency or not! Call us so we can help. We'd much rather speak to you and offer support and advice.
Dental Emergency Tips
Although each emergency situation is its own, there are some cases that tend to happen more often. Here are some specific dental emergency tips for you to use.
A toothache suddenly got really bad:

Pain is your body's way of telling you something is very wrong. That's why you shouldn't ignore a toothache even if it comes and goes. If the pain gets too much to bear all of a sudden, call us immediately and explain what happened just before the pain grew. Use pain relievers but avoid anything with aspirin if you are bleeding.

A crown or filling fell off a tooth:

Collect the dental work if you can. Then use some dental cement (found in most drugstores). For a crown that came off, dental cement can be used as a temporary adhesive to keep it where it belongs. For a filling, use this stuff to replace it entirely. This lasts about two days, so call us as soon as possible.

You cracked a tooth:

Use non-aspirin pain relievers for any pain, cover any holes in the enamel with dental cement, and then come see us as soon as possible. The longer you wait, the bigger the chance you might need a root canal after the tooth gets infected.

You have a loose tooth:

Do not touch it! Don't give into the temptation to see how loose it is, as that could be the very thing to make it come out entirely. Call us immediately, even if you're in no pain. Anything powerful enough to knock a tooth loose can cause damage inside the tooth.

You had a tooth knocked out:

Get the tooth, rinse it gently, and try putting it back where it was. If it won't stay there, put it in a small container with enough water to cover it. Bring it with you when you show for your emergency appointment.
Call our East Longmeadow, MA dentist's office today at 413-241-3995 if you are facing any sort of dental emergency.