Cosmetic Smile Transformations For Spring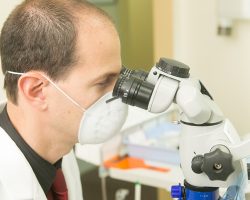 Cosmetic Smile Transformations For Spring
Mark is one of our favorite patients here at Dores Dental. We think he like us, too, especially after we were able to help him in a such a big way.
You see, Mark had engineered a big business deal that was about to go through for his company. It would mean opportunities for growth, and for the time being it would mean job security for Mark. Still, he was depressed. There would be a lot of important people at the closing ceremony and Mark had been plagued by embarrassing dental issues that made him want to hide under the table rather than celebrate his recent successes.
Maybe you can relate to Mark's situation. Since it is one of the first things that people will notice about you, nothing will bring you down faster than a bad smile. But like we did with Mark, if you are dealing with troubled teeth or gums, we would like to invite you in for a cosmetic dentistry consultation. That way, we can determine what is going on and how to best address your problems. Mark's story has a happy ending, and we are confident that yours can too.
We can't wait to help you transform the health and appearance of your smile. Until you make it in for your consultation, here are some great cosmetic solutions to be thinking about…
Dentist-Guided Teeth Whitening
Getting older will darken your teeth, and your daily consumption patterns (tea, soda, red wine, chocolate, medication, etc.) will leave their mark on you over time. Yellow and otherwise discolored teeth are a big problem.
Fortunately, at Dores Dental, we can quickly brighten your teeth with the professional Zoom! Whitening system. For this treatment, professional-strength peroxide gel will be applied to your teeth. That gel is activated by UV light to remove deep-seated stains and spots. It is a marvel of modern dentistry!
Keep in mind: actual results do vary based on the current color and condition of your teeth. Still, Zoom effectively whitens teeth up to 8 shades after only one session!
Once your treatment is complete, you'll be grinning from ear to ear!
Veneers: The Great Dental Cover Up
Veneers can turn things around for you if you have teeth that are cracked, chipped, misshapen, uneven, or discolored. How's that for versatility?
For this non-invasive treatment, we will remove a small amount of enamel from your teeth and then cement the porcelain veneers on top of them.
It's a wonderful way to get a gorgeous new smile! Just ask Mark!
Dental Bonding
Cosmetic bonding is a cost-effective solution that is used to correct small blemishes in your teeth like discoloration, chips, and gaps between teeth.
So, what does this treatment involve? Nothing too invasive!
During this procedure, a durable, tooth-colored material is bonded directly to your tooth to restore your tooth to its pristine state.
Make It Happen!
These spring smile transformation solutions are just a few examples of what we can do to boost the health and appearance of your teeth!
Contact us today to schedule your cosmetic dentistry consultation in our Longmeadow, MA dental office.