Common Questions About Dental Implants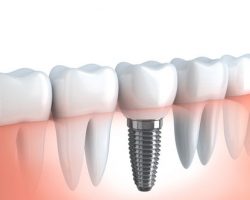 It's bad enough that you have had to go through the traumatic experience of losing teeth as an adult. Now you are forced to live with the aftermath. You don't look or feel like your old self. Your health and your confidence are slowly deteriorating. The situation seems rather bleak. You may be wondering: what, if anything, can be done to reclaim your life? Well, for starters, you can contact our Longmeadow, MA dentist's office right away to schedule a restorative dentistry consultation with our resident dental implants expert, Dr. Jim Dores. For today's post, we have compiled a few of the questions that tend to come up from interested patients. Keep reading to learn more about implants, and then be sure to get in touch to schedule that appointment so that we can get your life back on track ASAP!
What Are Dental Implants?
It is always good to start at the beginning. Dental implants are small rods made of titanium that resemble a screw. They are surgically inserted into your jaw and attached to replacement teeth to create a resilient new smile.
After implants are inserted, they immediately begin to merge with the bone in your jaw and act as the roots of your teeth, which ensure that you don't fall victim to bone and gum tissue loss.
Will The Surgery Hurt?
No. Even if you are especially sensitive, we will do everything possible to make it a pain-free and pleasant experience for you. That includes employing sedation dentistry techniques to guarantee that your visit is smooth and comfortable. It really is an easy process.
Are Dental Implants Comfortable?
Yes! Our implants are crafted to feel like your natural teeth. The artificial tooth, or crown, is custom-made to fit your mouth. It will be the right size, shape, and color to blend in with the rest of your teeth. You will hardly know that you aren't equipped with the real thing anymore.
How Long Will Dental Implants Last?
Dental implants are designed to last a lifetime but they will require some maintenance, just like your real teeth. Brushing twice a day for two or more minutes, flossing and rinsing regularly, and visiting the dentist every three to six months will keep you on track. The nice thing is that, according to recent studies, dental implants can add years to your life!
Are Implants The Right Solution For Me?
We hope so! The best candidates for dental implant surgery are folks who are in good health overall. Here's the thing: your jaw bone must also be thick and tall enough to support the implant.
When you are here for your consultation, Dr. Dores will evaluate your mouth and jaw and determine the best way to restore the missing teeth. One way or another, we'll get you back on the good road in terms of both health and appearance.
Can I Start Today?
Yes! If you would like to learn more about dental implants and get started with your transformational journey, you can schedule a consultation today with Dr. Dores by calling our Longmeadow, MA dental office at 413-241-3995.