We Care About Children's Dental Health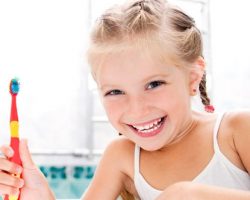 February is the month designated by the American Dental Association as National Children's Dental Health Month, so we think it's the perfect time to talk about the importance of taking care of your kids' teeth from a very young age.
You may be thinking "Why bother — don't they just fall out anyway?" It's true that baby teeth are temporary, but that doesn't mean kids don't need to keep them healthy for daily function. They also serve as placeholders: if baby teeth fall out before their time, the adult teeth may come in wrong or drift out of their proper place.
Plus, good oral hygiene is a habit best learned young. Children who are introduced to a daily routine of toothbrushing and flossing and begin regular dental visits at an early age are more likely to keep up the practice as adults. And that gives them the best chance for a beautiful, disease- and decay-free smile — not only in childhood, but for a lifetime.
Plan your next checkups for yourself and your family. Call Dores Dental of Longmeadow, MA at 413-241-3995.
Oral Hygiene Begins Before the First Tooth
Even before that first tooth comes in, you can begin acclimating baby to a daily dental routine. Rather than using a toothbrush, dampen a soft washcloth and gently wipe baby's gums. This helps remove bacteria, which can begin doing damage as soon as a tooth erupts. It will also make the transition to brushing a bit smoother.
Once the even a hint of a tooth appears, it's time to switch to a toothbrush. It's also time to book that first cleaning and exam with Dores Dental (if your baby is approaching his or her first birthday and still doesn't have any teeth, you should book an appointment anyway).
Use a soft, age-appropriate toothbrush and a tiny amount of fluoride toothpaste (about the size of a grain of rice). This is enough until the age of three, at which point you can start using a dab the size of a pea. Brush all surfaces of the teeth plus the tongue, which removes additional decay- and bad-breath-causing bacteria.
Once your child has enough teeth for food particles to get stuck between them, it's time to add flossing to the routine. For young kids, pre-strung flossers make this task much easier.
The bad news: most toddlers aren't just going to open their mouths wide and sit still while you clean their mouths. The good news: there are ways to get the job done and make it fun too!
Music makes everything better. Crank it up with this

toothbrushing playlist

from the American Dental Association.

Give kids a sense of control. Let them pick out their own toothbrush, and experiment with toothpaste flavors until you find one that they actually like.

Let your child play the role of parent by "brushing" a favorite stuffed animal's "teeth."

And don't worry, it's totally fine to tie toothbrushing to a sticker chart or other similar incentive. (Just be sure the reward is not candy or something damaging to the teeth!)
Keep a Tooth-Friendly Kitchen
If your kids consume a steady stream of sugary, carb-loaded processed foods, meticulous oral hygiene will only go so far. Here are a few tips for ensuring your family's diet isn't sabotaging the health of everyone's teeth and gums. And generally speaking, a tooth-friendly diet is a body-friendly diet — yay!
Purge your pantry of sticky sweets like gummy snacks, chewy granola bars, fruit rollups, and even dried fruit. These sugar-dense treats get stuck in the grooves of the teeth and promote the growth of harmful bacteria.

Even salty snacks like chips and pretzels promote bacterial growth due to their carb content. And hard, crunchy eats put you at risk for a broken or cracked tooth!

Cheese is an excellent source of calcium, plus it's been shown to increase the pH of the mouth, creating an inhospitable environment for nasty microbes. So stock up on cheese sticks for an easy, healthy snack.

Even though they contain sugar, apples make another excellent snack that's good for your teeth and gums. They promote the production of cleansing saliva, stimulate the gums, and are packed with nutrients.
If you haven't already, get your family's next appointments in the books at Dores Dental of Longmeadow, MA. We offer a variety of services to keep your children's teeth healthy in the spirit of National Children's Dental Health Month: cleanings and exams, sealants, fluoride treatments, athletic mouthguards, and more. You may reach us via our web form or call our office directly at 413-241-3995.