Beat Dental Anxiety With Comfortable Dental Treatments | East Longmeadow, MA [Blog]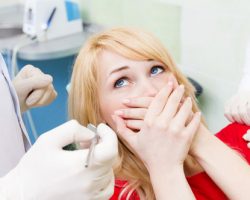 As an adult, you're used to doing things you might not want to. That's part of being mature, right? Then why is it so hard to make an appointment with the dentist?
Actually, dental anxiety is common. But that doesn't mean it's a good thing. If you skip regular visits, your teeth and gums will suffer for sure. Small problems like hairline cracks or tiny cavities only get worse without treatment, which means you'll eventually need a more costly and complicated fix.
That's why you need to call Dores Dental today at 413-241-3995 and make a new appointment. Dr. Dores has years of experience working with people with some dental anxiety, and he can deliver comfortable dental treatments that keep your smile healthy and strong.
Enjoy Pain-Free Dental Technology
One big source of dental anxiety is worrying over how procedures will feel. That's entirely reasonable, as dental technology when you were a child wasn't as advanced or comfortable as it can be today. That's why we've invested in some of the latest pain-free technologies at our East Longmeadow, MA dental office: DentalVibe and the Solea CO2 laser.
DentalVibe:

Local anesthesia is a fantastic way to make sure you receive comfortable dental treatments. However, getting it can cause some problems since it requires an injection. Just seeing the needle can make you feel anxious! But DentalVibe sends gentle vibrations to where the injection will happen. This confuses your nerve endings, and they never feel you getting anesthesia. It even helps the numbing happen faster so you are comfortable that much sooner.

Solea CO2 laser:

Yes, this is a special laser used by dentists! It's the first laser treatment approved by the FDA for dental use. Dr. Dores is trained to use this as a replacement for the traditional dentist's drill. Now, you can skip the noise and feel of drilling and still get the treatments you need for a healthy smile. In fact, it's so comfortable that you might not even need anesthesia in the first place!
Why You Might Fear The Dentist
Dental anxiety is complex, so your concerns might not be related to how a given treatment might feel. Here are some common sources for not wanting to visit the dentist.
You heard about a friend's bad experience:

Stories are powerful, and you can easily imagine yourself in them. So when you listen to a friend describe a troubling experience they had in the past, it can stick with you and cause dental anxiety even though you never had that situation happen to you.

Dentist visits as a child were scary:

Speaking of your own experiences, going to the dentist as a child can be intimidating and scary at times. It's a strange place full of strange equipment and strange people who want to touch your teeth! Even if everything went well, those childhood thoughts can still impact you today and cause some anxiety.

It's been too long since your last cleaning and exam:

You might worry about being chastised for not getting regular care if it's been years since your last visit. Don't worry! Our entire team is dedicated to helping you, not complaining! No matter how long it has been, you'll still be treated as an old friend here.
Call our East Longmeadow, MA dental office at 413-241-3995 or reach out using our online form to make your next appointment.