Athletic Mouthguards: Saving One Smile At A Time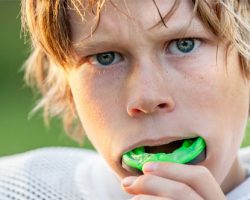 Sports are a fun way to stay in shape. They also can help us learn lessons about hard work, about achieving goals, and about accepting that things don't always work out the way we want.
These are just a few of the great reasons for people to participate in sports. If you have athletes in your family, our team at Dores Dental wants to support them. 
We also want you to play safe, which is why we are happy to create custom-fitted athletic mouthguards for you and your family.
If you live in or near Longmeadow, MA, you can make an appointment to get mouthguards by calling 413-241-3995 or by filling out our online form.
We want you to enjoy the sports that you play, but we also want to keep you smiling for years to come. Protecting your teeth makes that more likely.
Being Prepared Includes Being Protected
The American Dental Association (ADA), the Academy of Sports Dentistry, and the American Academy of Pediatric Dentistry (AAPD), among other organizations, all suggest wearing mouthguards for any high-impact sport.
And more specifically, they encourage athletes to wear custom-fitted mouthguards for the best protection.
Now, there is no way to prevent every dental emergency. Yet, we know that playing sports makes it more likely that something will happen to someone. After all,  many people are running around. Balls and other equipment are flying through the air, and, in many games, people have lots of contact with each other as a natural part of the game.
For those reasons, mouthguards are mandatory for many sports. Football, hockey, and lacrosse come to mind.
But the ADA, the AAPD, and other dental organizations recommend mouthguards for a number of other sports as well, including baseball and softball. Mouthguards should be worn while practicing or playing any sport that involves running, changing speeds and directions, jumping, and physical contact.
This includes sports we've mentioned above as well as things like basketball, gymnastics, soccer, volleyball, and wrestling.
In its "Policy on Prevention of Sports-related Orofacial Injuries," the AAPD points out that nearly one-third of oral and facial trauma cases in a 10-year study were the result of sports-related injuries.
The study also pointed out that mandatory used of mouthguards in football, hockey, and lacrosse has greatly reduced dental injuries among participants in those sports. Meanwhile, baseball and basketball are the cause of the highest number of dental injuries among athletes 7 to 17 years old.
A mouthguard is not going to stop a collision or a fall from happening. But like a seat belt in a car, a mouthguard can minimize the effects of that collision if it does take place.
Just call 413-241-3995 if you would like to get a mouthguard for yourself of someone in your family. Our dentist office in Longmeadow, MA, would much rather make a mouthguard today than help with a dental emergency tomorrow.
Why Is A Custom-Fitted Mouthguard Better?
Experts estimate that athletes who don't wear mouthguards are 60 times more likely to suffer dental injuries than those who do. To look at this another way, experts also estimate that mouthguards prevent more than 200,000 injuries every year.
And the National Youth Sports Foundation for Safety has pointed out that people who lose a tooth are looking at lifetime expenses between $10,000 and $20,000 for each missing tooth.
By comparison, any mouthguard looks like a bargain.
Now, we will agree that wearing any mouthguard is generally better than wearing no mouthguard. After all, some protection is better than no protection.
Even with that in mind, the ADA and the AAPD both recommend custom-fitted mouthguards.
Stock mouthguards are not adjustable. They may or may not feel comfortable in your or your child's mouth.
Boil-and-bite mouthguards offer some level of customization. This is an improvement over the stock design, but they can have issues, too. The Academy of Sports Dentistry reported on a study of more than 500 rugby players. Many of them complained that boil-and-bite mouthguards interfered with their breathing during games.
A custom-fitted sports guard, like the ones we can make at Dores Dental, offers better protection. 
First, it is designed to fit your teeth. Second, this allows us to make the mouthguard smaller. That makes it easier for athletes to breathe and to communicate with teammates and coaches.
Third, this makes the mouthguard more comfortable, which also makes it more likely that your loved ones will wear it during practices and games.
Keep Your Family Smiling
A custom-fitted mouthguard offers the best protection to your family's teeth while playing sports and participating in other high-impact activities.
We want to help you keep your family smiling now and for years to come. Call 413-241-3995 or contact Dores Dental online to online form, and get mouthguards for all the athletes in your family.