An Athletic Mouthguard Prevents Injury [video]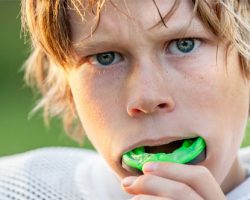 If you or your child participates in contact sports or other rough activities, an athletic mouthguard could make the difference between a knocked-out tooth and an unscathed smile.
At Dores Dental, we can craft custom guards made from precise impressions of your teeth. Because they are made to fit your mouth perfectly, they are better fitting and more comfortable to wear than store-bought varieties.
Call our Longmeadow, MA dental office at 413-241-3995 to schedule an appointment for an athletic mouthguard. Or get in touch with us online.