Are Dental Implants Your Smile Solution?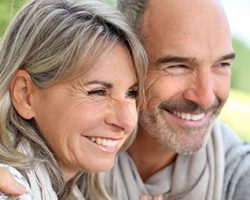 Your missing teeth are more than just an annoyance. They limit what you can eat. They make you self-conscious about your smile and about how you speak. What you have lost is affecting your quality of life.
You can regain more than just your smile. You can eat what you want and speak naturally again with dental implants.
What are dental implants?
Implants are replacements for the roots of your lost teeth. Modern implants are made of titanium. They are typically small posts or screws that are placed directly in your jawbone. Implants provide stable and secure support for crowns, bridges, and dentures.
Who should get implants?
Anyone who needs to replace a missing tooth or teeth. Implant-supported restorations are the closest thing you can get to new, natural teeth. With implants, you can bite with nearly as much force as someone with a full set of teeth. You can secure dentures without and adhesive, and you can feel confident that your replacement teeth will stay in place.
Where can I get dental implants?
Start by scheduling a consultation at our practice. We can answer any questions you have about implants and explain the process for getting them. Call the Dores Dental team in East Longmeadow, MA at 413-241-3995 to find out more or fill out our online form to request your future appointment.