A Clear Solution for Your Orthodontic Care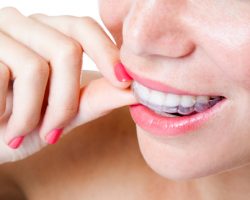 A year from now, you wake up to begin your morning routine. You look in the mirror as you prepare to brush your teeth. You smile. Then you smile a little bigger.
Your teeth look perfectly straight. That slight overbite that bothered you for years is gone. You have the smile that you have dreamed of having since you were a teenager. It's given you renewed confidence at work, and it has helped you feel more relaxed in social situations.
You are so glad you visited Dores Dental in East Longmeadow, MA. You are happier still that you decided to go ahead with orthodontic care with Invisalign aligners.
It has truly made a big difference in your everyday life. You only wish you had started sooner. Let's make your smile dream into reality. Call 413-241-3995 today to make an appointment to begin.
See the Changes Happening
Invisalign can give you a smile that looks the way you want it to look. You can address a number of teeth problems:
Crooked teeth
Crowded teeth
Overbites
Open bites
Crossbites
Underbites
Gaps between teeth
Whatever your alignment issues may be, there is a good chance that you can fix them with Invisalign.
Clear aligners offer some advantages over traditional braces, too. First and foremost, they are clear. When you place your aligners over your teeth, they become practically invisible to other people. For working adults and self-conscious teens, this can make it easier to get started with this treatment.
Second, you don't have to wear your aligners all the time. Braces are bonded to your teeth. You aren't taking them off. Aligners, however, should be worn 20 to 22 hours per day during your treatment.
Third, you don't have to make a lot of changes to accommodate your aligners. Since you can remove them, you can take them out before meals and keep eating your favorite foods. You don't have to change your normal brushing and flossing routine either. Just remember to put your aligners back in after you have cleaned your teeth.
Count on Results
Invisalign was developed decades ago with adult orthodontic patients in mind. Since then, this technology has transformed millions of smiles around the world including many right here in our community. We know because we have cared for a lot of those patients at our practice.
With Invisalign, you receive a set of custom-designed aligners. You wear each aligner as directed for a few weeks at a time. Then, you replace it with the next aligner in your series. This way, your teeth are gently moved a little at a time until you achieve your smile goals.
Start Your Smile Journey Soon
By next summer, you could be looking at your new smile. Our team wants you to enjoy the confidence that comes with straight teeth and the health benefits as well. Your smile is an important part of who you are and how you interact with the world.
Don't wait any longer to improve the appearance of your teeth. Call the Dores Dental team at 413-241-3995 to find out more or contact us online to make an appointment for a consultation.