4 Ways to Straighten a Crooked Smile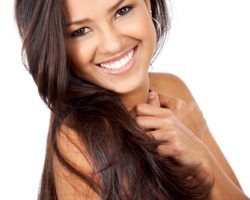 How long have you put up with crooked, crowded, or misaligned teeth? Whether they've been that way since childhood or they shifted in adulthood, we can help you set them straight.
At Dores Dental, we offer several cosmetic dentistry procedures that can correct or hide an off-kilter smile. To schedule a consultation at our office in Longmeadow, MA call 413-241-3995.
#1: Invisalign
Of all the procedures we offer, this is the only one that will actually straighten your smile by moving your teeth. Invisalign is the innovative orthodontic system that uses a series of clear plastic aligners to shift your pearly whites into the perfect position. The aligners contain no metal parts to irritate your gums, and they are removable for easy cleaning and eating. They are comfortable to wear and invisible on your teeth. Most people will not notice you are wearing them! And once your treatment is over, you will have a perfectly straight smile.
#2: Tooth Bonding
For tooth bonding, we apply a composite resin material over your tooth. The putty-like substance is meticulously molded and shaped, hardened with a special light, trimmed, and polished. It is matched precisely to your enamel color and is indistinguishable from your natural tooth. The procedure can be used to hide all sorts of flaws, including discoloration, chips, and cracks. It can cover gaps between teeth and disguise minor cosmetic crookedness and alignment issues.
#3: Teeth Contouring
As its name suggests, teeth contouring is a procedure in which we contour, or reshape the teeth by removing small amounts of enamel. The procedure is painless, as we do not touch the inner structure of the tooth, where the nerves are housed. And we take X-rays beforehand so we know the precise placement of your enamel. Teeth contouring is used to subtly change the shape of a tooth. It can fix slight overlaps and alter the appearance of mildly crooked teeth.
#4: Dental Veneers
A dental veneer is a thin shell-like covering that is permanently bonded to the front of your tooth. It covers a wide variety of flaws, including stains, chips, cracks, gaps, and more.  You can get a single veneer, or a full set for a truly flawless, straight, smile. If you have minor alignment issues or slight crookedness, veneers will make all of it disappear.
At most dental offices, the process of getting veneers requires having them manufactured at an outside lab, which takes several weeks. At Dores Dental, we are able to manufacture your beautiful custom veneers right in our office while you wait thanks to our cutting-edge CEREC machine. They will be perfectly matched to your tooth color and are made according to precise digital impressions of your mouth.
We will remove a small amount of enamel from your teeth before placement to ensure a perfect, natural-looking fit. With proper care, your veneers can last decades.
If you are ready to straighten your smile with cosmetic dentistry, call Dores Dental of Longmeadow, MA at 413-241-3995. Or request an appointment via our online form.