3 Reasons to Love Dores Dental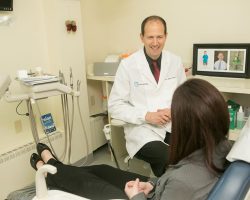 Finding a new dental home for you and your family is not an easy process. You want a place with top-notch clinical care, of course. You want a place where the team members are as good working with children as they are with adults. You want a place that offers a wide variety of services for all age groups. And you want a place where people take the time to speak with you, where they remember your name, where you feel like a person and not a number.
You want Dores Dental. From the moment you walk into our office, you will feel welcomed and part of our dental family. Our employees combine professionalism, dental knowledge, and expert people skills. We are able to engage, entertain, and remove the fear factor for all of our patients: toddlers to teens to adults who suffer from dental anxiety.
If you would like to experience compassionate dentistry in Longmeadow, MA, call Dores Dental today at 413-241-3995.
Reason #1: We Operate By Our Core Values
We believe so strongly in treating our patients fairly, kindly, and compassionately, we've developed a list of core values that are reflected in every aspect of our practice. This ensures our patients will receive a level of care that goes above and beyond what they will experience at the typical dental office.
A positive attitude enables us to view situations and people in the best possible light.

Selfless. Our patients and their best interests come first.

We take the most ethical action at all times.

We laugh, smile, and know how to have a good time.

We are resilient and do not give up.

We believe in the value of unconventional thinking and place a premium on personal and professional growth.

All of our team members are dependable and display a strong work ethic.
Reason #2: We Take Care of the Whole Family
Why run around to different dental offices for the kids and grownups in the family when you can all come to Dores Dental? We see babies as young as one — or whenever their first tooth comes in. For those early visits, Dr. Dores will be happy to discuss pacifier use, teething, and whatever other issues you're concerned about. And unlike with a pediatric specialist, your children will never outgrow us, when enables continuity of care.
We offer services that are of special interest for younger patients, like sealants, fluoride treatments, and athletic mouthguards.
We offer a comprehensive menu of cosmetic and restorative procedures and can give you a whole new smile with dental implants or dentures.
And, of course, you'll want to bring the whole family for a cleaning and exam every six months.
Reason #3: We Embrace Patient-Friendly Technology
Technology has transformed the field of dentistry, making procedures faster, less invasive, and less painful. At Dores Dental, we've adopted many technologies to improve our patients' experiences.
CEREC enables noninvasive digital impressions and same-day crowns and bridges.

Digital X-rays and our intraoral camera enable us (and you) to see high-resolution images of what's going on in your mouth.

The Solea CO2 dental laser enables us to perform procedures that used to require anesthesia without any pain at all.

Our DentalVibe painless anesthesia delivery system takes the sting out of the numbing needle.
These are just a few reasons to make Dores Dental your family's dental home. If you'd like to experience compassionate dentistry in Longmeadow, MA, you may request an appointment via our online form or call 413-241-3995.