Win a Cruise Vacation!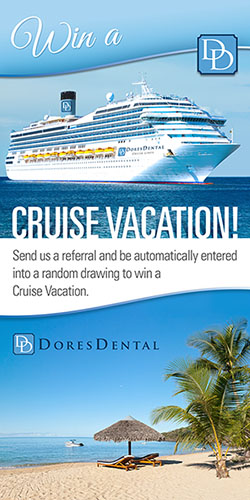 The Grand Prize!
A Cruise Vacation
How Do I Enter?
Entering to win this fantastic prize is simple: Send all of your family and friends to Dores Dental! Your name enters the drawing as soon as your friend completes their first appointment.
Referred patients can be anyone you know who has never been a patient at Dores Dental before. Be sure they mention your name while they are in our office!
Rules and Restrictions
Anyone who makes a referral to James Dores D.M.D., P.C. (Dores Dental) can enter the drawing. Referred patients must have at least one office visit in order for referral to qualify. No purchase is necessary, non-patients are eligible, one entry per person. Referral deadline is December 31, 2017.
The Cruise Vacation winner must be at least 18 years old. The winner agrees not to hold Dores Dental liable for any resultant action which may occur on the Cruise Vacation. Dores Dental will attempt to first notify the winner by phone. If unable to do so, Dores Dental will send written notification via U.S. Mail to the address of record on the winner's Dores Dental Membership.
If Dores Dental is unable to make contact with the winner within 14 calendar days of the drawing, another winner will be selected. It is the responsibility of the entrant to determine whether the raffle is permitted under the laws of the state in which the entrant resides.
Winner shall be responsible for all necessary documents, applicable taxes, and any other costs associated with the Cruise Vacation. Employees of Dores Dental and their immediate family members are not eligible for the promotion.
Contact our office today if you have any questions. Call 413-241-3995. We can't wait to meet your family and friends soon!